EPA Launches Climate Change Contest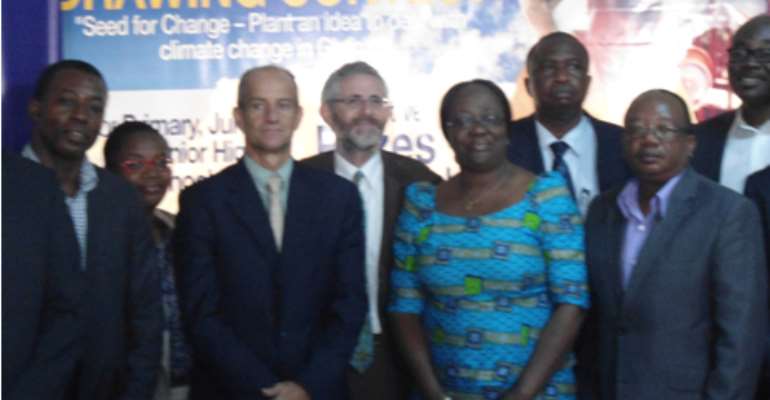 The European Union (EU) Mission, in collaboration with the embassies of France and Norway, the Ministry of Environment, Science, Technology and Innovation (MESTI) and the Environmental Protection Agency (EPA), has launched the National Climate Change Drawing Competition (NCCDC) in schools.
The NCCDC will focus on pupils in primary, junior and second cycle schools (special schools inclusive) in all regions in Ghana to encourage a national discussion on climate change on September 8, this year.
The children will be expected to exhibit their vision and perceptions with pictures to showcase the climate changes in Ghana.
The contest is structured in three categories, according to the age of pupils, with each category focusing on an aspect of climate change.
Schools will have the opportunity to enter the competition in three categories, thus primary schools -observation, junior high schools- impact and second cycle schools-solutions
The contest under the theme: 'Seed For Change-Plant Your Idea To Deal With Climate In Ghana' is aimed at stepping up the climate change awareness outreach in Ghana to build a coalition ahead of the conference of parties (COP21) to be held in Paris at the end of November and December this year.
Director for Curriculum Research and Development Division of GES, Cynthia Bosomtwi-Sam, said the GES will give the competition all the support needed to make it a very successful competition that will make an impact.
She added that climate change affects every facet of life and there is the need for harnessed global effort by all stakeholders to contribute to controlling the negative impact.
Dr Emmanuel Tachie-Obeng, National Focal Point Person for Climate Change, EPA, in his speech, said the drawing contest is a follow-up to the 'Kick-off the Climate COP21' campaign in Ghana organised on June17, 2015 in Accra.
He emphasized that three prizes will be given out and in total; nine schools will be declared winners and invited to the award ceremony.
Dr Tachie-Obeng also said forms will be available at all regional offices of GES and EPA offices so schools can pick and fill them.
'Contestants are expected to send their drawings to EPA regional offices,' he said, urging all schools to participate.
[email protected]
By Sarah Cobbinah