Hearts of Oak PRO blasts Kotoko Board Chairman, brands him an ignorant lawyer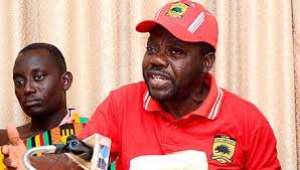 The Public Relations Officer of Accra Hearts of Oak Opare Addo has lashed out at the Board Chairman of Kumasi Asante Kotoko Paul Adu Gyamfi for being an ignorant lawyer whose ignorance has landed the club in their current legal turmoil with the Ghana Football Association.
The 2014 league champions issued an ultimatum to the Ghana FA to fast track their appeal against the ruling of the Disciplinary Committee which docked six points from their accumulated points due to a protest registered by Accra Hearts of Oak but the PRO insists that the Board Chairman of the Porcupine Warriors is only good in land disputes.
"The man has demonstrated that he is utterly ignorant of the laws governing football in the country. How can a whole lawyer write a letter to the FA given them an ultimatum to fast track the hearing of the appeals committee on their case? He doesn't know what he is about. This is not about land disputes," Opare told GHANAsoccernet.com
"The general regulations of the FA states that when Kotoko presents their appeal, the FA will serve Hearts of Oak which will take three days for Hearts to respond."
"After Hearts has responded to the appeal,  we will state our stance and Kotoko will have another three days to respond. So if the clubs will take three days each to respond in time it means nine days will be used for that."
"Afterwards the Appeals Committee has ten working days within which to come out with a ruling. So if a lawyer of his standing does not know the processes must end before you call for the decision and you write to the FA to come out with a decision, he has really demonstrated his ignorance of the law," Opare added.
Accra Hearts of Oak were awarded three points by the DC of the Ghana FA after a protest they lodged against Obed Owusu was upheld by the DC which has been contested at the Appeals Committee by the Porcupine Warriors.