Customs Single Window Takes Off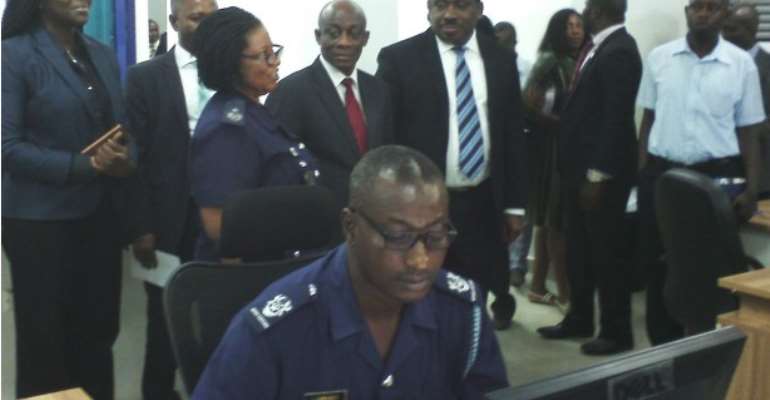 Seth Terkper with George Blankson, Commissioner-General GRA at the head office
Customs Division of the Ghana Revenue Authority (GRA) on Tuesday, September 1, 2015 began the implementation of the National Single Window system.
The Single Window system would serve as a common platform for stakeholders to process their documents to facilitate trade and reduce the cost and time in import, export and transit trade.
The Customs Division has taken over the classification and valuation function which was initially handled by the Destination Inspection Companies (DICs).
After a week of its implementation, authorities at the Customs Division of the Ghana Revenue Authority (GRA) have expressed satisfaction with the work done so far.
Kuudamnuru John Vianney, Acting Commissioner-Customs Division, GRA, said the system commenced smoothly.
He made this known while briefing the Minister of Finance, Seth Terpker who visited customs head office to get first-hand information about the implementation of the Single Window System.
Mr Vianney said, 'We have been preparing since government announced that it will not renew the contract of the Destination Inspection Companies (DICs). We trained some of our officers to do the classification and valuation function.'
He said they faced minimal challenges at the initial stages of the implementation but with the assistance of their technical team they were able to solve the problems.
Mr Vianney urged importers to submit genuine and authentic documents for clearance of goods at the port, stating, 'when you under-declare you will have problems at the port.'
The Finance Minister commended board and management of Customs Division for the smooth commencement of the national single window, urging them to put various measures in place to make the system work effective in order to alleviate the problems importers encounter at the port.
He said government expects the Customs Division to generate more revenue for the country, urging them to meet their target by the end of the year.
The Single Window System
The single window system provides an opportunity for traders to lodge their documents, including certificates of origin, invoices, customs declarations and import/export permits, at a single location (electronically) and assessed by all regulatory and trade agencies.
The traders would not send copies of the same documents to different agencies.
Already, a modernized environment has been developed by the Customs Division to provide a Pre-Arrival Assessment Reporting System (PAARS) to enhance revenue mobilization, improve border security and customs clearance, overcome duplication across regulatory agencies and promote trade facilitation.
[email protected]
By Cephas Larbi