Togo making democratic gains - Prime Minister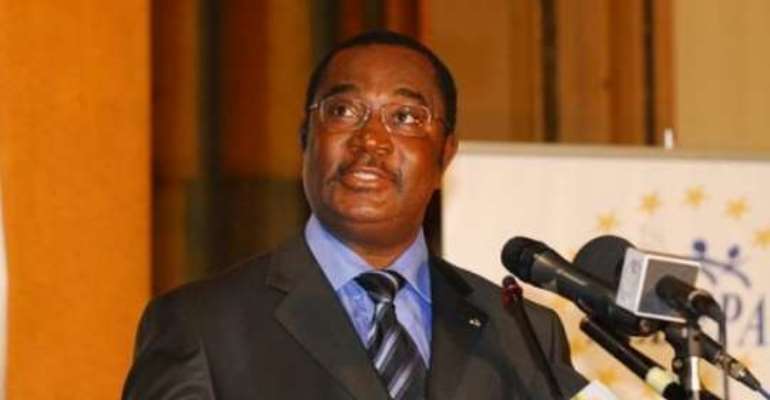 Notse-Togo, Sept. 7, GNA - Mr Selom Komi Klassou, Prime Minister of the Republic of Togo, at the weekend observed that Togo was making significant gains in its democratic journey, and needed unity of purpose for stability.
He, therefore, cautioned the citizenry against discrimination along tribal and ethnic lines.
Mr Klassou made the observation at this year's Agbogboza of Ewes at Notse in the Republic of Togo.
Agbogboza is an annual cultural festival for Ewes, and attracts Ewe-speaking people from Ghana, Benin, Cameroun, Nigeria and the Diaspora
This year's event was on the theme: 'Using culture to promote peace and development,' and attracted members of the Diplomatic Corps and Ministers of State of the Republic of Togo.
Togbe Afede the fourteenth, Agbogbomefia of Asogli led about 1,500 people from the Volta Region to the festival.
In his entourage were Togbega Gabusu the sixth, Paramount Chief of Gbi, Togbe Tsedze Atakora, Paramount Chief of Alavanyo, Togbe Fiti Amenya the fifth, Paramount Chief of Aflao, Togbe Sri the third, Paramount Chief of Anlo, Nana Letsabi the second, Paramount Chief of Santrokofi and Okoroforobour Boafo Kwame Asante, Paramount Chief of Tapa Abotoase, as well as some Ewe chiefs from the Ashanti Region.
Also in Togbe Afede's entourage was Madam Dzifa Gomashie, Deputy Minister for Tourism, Culture and Creative Industry.
Prime Minister Klassou said Togo's rapid infrastructure and socio-economic growth were as a result of the country's relatively stable democracy, and called for an end to division along north-south lines.
He commended Ewes across the globe for tracing their roots to Notse, and noted that the unity of Ewes was strengthening the unity of West African States.
Prime Minister Klassou was hopeful that the annual celebration of the festival would bring some socio-economic gains to the sub-region.
Togbe Afede commended the Togolese government for maintaining peace in the country.
He described Ewes as 'God's chosen people,' and challenged Ewes in high positions to eschew corruption, be truthful and patriotic.
Togbe Agorkoli the fourth, Ewefiaga of Togo, said the festival helped in uniting Ewes through the celebration of varied cultures.
He said Ewes had 'great' cultural inheritance, and that it was important they congregated yearly to celebrate the cultural diversity in remembrance of their ancestors.
(From A.B. Kafui Kanyi, GNA Special Correspondent, Notse-Togo, and courtesy Asogli State)