Ghana, Nigeria to revive 'Joint Commission for Corporation'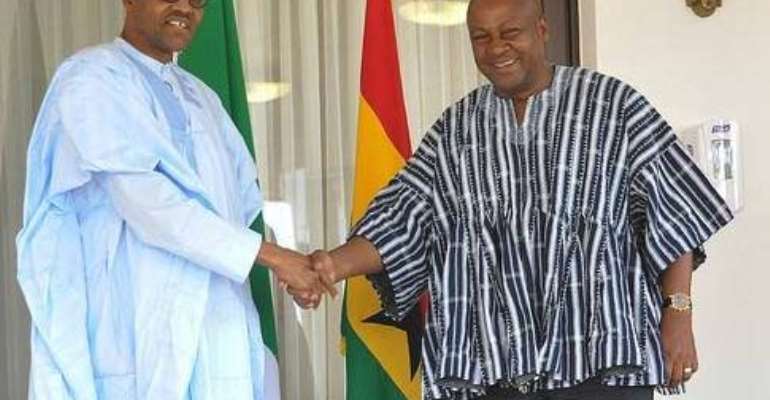 President John Mahama in a handshake with Nigeria's President Muhammadu Buhari
Ghana and Nigeria have agreed to revive the 'Joint Ghana-Nigeria Commission for corporation' which fell off some years back, that's according to President John Mahama.
He said the move is aimed at enhancing the trade and diplomatic relations between the two neighbouring countries.
Speaking at a joint press conference addressed by him and his Nigerian counterpart Muhammadu Buhari Monday, the President said the two countries have also decided to continue with their leadership role in matters of security on the continent.
'As two key sub regional leaders, Ghana and Nigeria must lead the regional integration process.
'Ghana has also agreed to work with Nigeria to guarantee the security and socio-economic prosperity of our people. In that direction, our two ministries of foreign affairs will begin the process of reviving the joint Ghana- Nigeria commission for corporation and progressively expand its focus to the level of a bi-national commission,' Mr. Mahama said.
For his part, President Buhari said he is committed to working with Ghana and other West African countries to confron the Boko Haram insurgency from the sub-region.
President Buhari is on a day's working visit to Ghana.
Source: Starrfmonline.com