Veep calls for peace in Cape Coast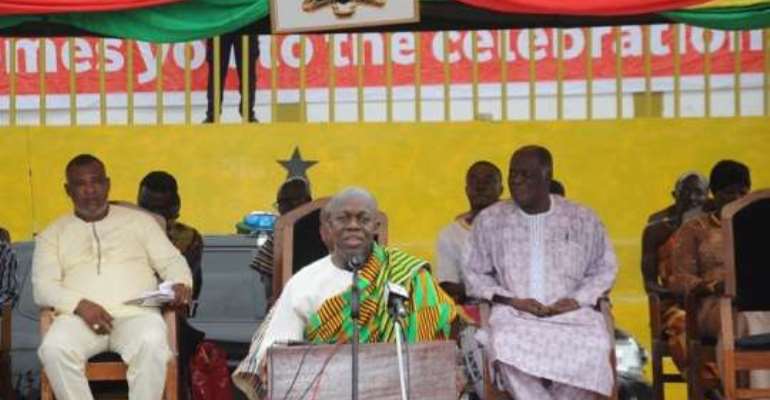 Cape Coast, Sept.7, GNA - Vice President Kwesi Amissah-Arthur has called for peace among the people of Cape Coast to ensure meaningful development in the area.
He said the people of Cape Coast also need peace to be able to nurture the youth to take up the leadership mantle.
Vice President Amissah-Arthur was speaking at this year's Ogua Fetu Afahye at the Victoria Park in Cape Coast.
This year's festival which was on the theme: 'Nurturing the younger generation to take up the mantle of leadership' was attended by a large crowd of people both indigenes and tourists.
Besides, the beautiful displays by the various Asafo groups added colour to the occasion.
Vice President Amissah-Arthur also stated that though it was President John Dramani Mahama who was invited to grace the occasion, he pleaded with him to join the people of Cape Coast for the celebration of the festival.
He said he was encouraged by this year's crowd at the festival, which was the most attended in recent times.
Vice President Amissah-Arthur expressed delight at the progress of work at the Kotokraba Market as well as the Cape Coast Sports Stadium projects, which were nearing completion.
He praised the late President John Evans Atta-Mills for initiating those two great projects for the people in the area.
Osabarima Kwesi Atta II, Ogua Manhene, also called for peace and unity among the people to ensure development in the area.
He said despite the many top secondary schools in Cape Coast, many of the students in the area who even passed their examinations successfully still found it difficult to gain admission to schools in the area.
He said the 30 per cent quota which was initiated by the late President Mills for admission for students in the area has been abandoned.
Osabarima Kwesi Atta also appealed to government and the doctors, to conclude their negotiations on the latter's conditions of service, so that the country do witness future strikes.
He called on parents to exercise control over their children especial young girls to prevent them from going wayward.
GNA