Call GABF Boss To Order …Ambassador Ray Quarcoo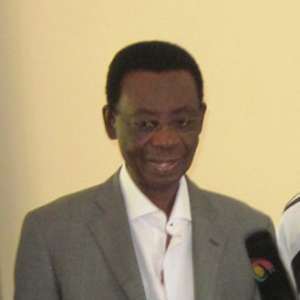 Former Ghana Amateur Boxing Federation (GABF) president Ambassador Ray Quarcoo has petitioned Youth and Sports Minister Dr Mustapha Ahmed to call his successor Gideon Quartey and the assistant George Lartey to order, DAILY GUIDE SPORTS has gathered.
 A letter sighted at the country's sports governing body, Ministry of Youth and Sports (MOYS) read, 'It has come to my notice that Mr. Gideon Quartey, the President of the Ghana Boxing Federation (GBF) and his Vice, Mr. George Lartey are engaged in a smear campaign to bring my name to public ridicule.
'It is reported that he and his Vice, Mr. George Lartey, who doubles as a host of a GTV Sports Programme, have on many occasions used this media platform to broadcast and publish false statements about my administration and my goodself with the intent of damaging my hard-earned reputation.'
The letter stated that 'these persons have been falsely asserting on various media channels that my administration is sabotaging their efforts. That the former administration which I led is still  maintaining relations and communication with the world boxing governing body, the International Boxing Federation (AIBA) and the African Boxing Confederation; with the implication that  I am intercepting correspondences from these governing bodies meant for their office.
'Specifically, Mr. Gideon Quartey made this allegation on the same GTV Sporting programme hosted by his Vice on Saturday, August 8, 2015. He said that I have refused to release information to his administration for action and for that reason Ghana is likely to miss the 2016 Olympic Games in Rio, Brazil.
It added that 'the extreme and outrageous conduct of these persons; and the consistent intentional, reckless statements they are making have the tendency to create a high degree of risk of harm to my reputation, yet they deliberately have proceeded to act with conscious disregard or indifference to the risk of damage they pose to my reputation.
'In view of the above, I humbly petition your good office to demand from the above-named persons their proof of evidence within twenty-one (21) working days on receipt of your summons or they accordingly desist from their outrageous conduct and above all render unequivocally an apology retracting all the false statements through the same media they used.'