September 7, 2015
|
Opinion/Feature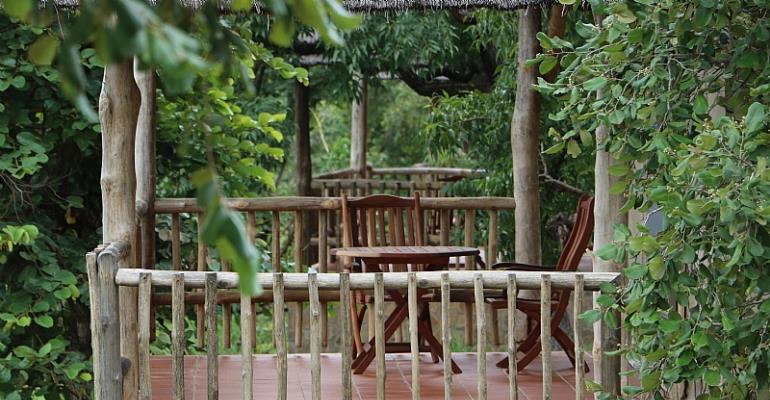 The shower's rush is vigorously, massaging my aching back from weeks of monotonous routine back in the city, with the heat from the splashing water giving me a soothing knead. I am most excited that in a few short hours, I have arrived in Zaina Lodge, the new high-end accommodation facility being put up here in the Mole National Park in Northern Region. I've already seen elephants splattering in the watering holes right below us about 500 meters away, and also the stunning beauty of the horizon, with the expanse of savannah greenery, which rolls out far into the distance and gives off a really beautiful backdrop! As I take this quick shower, just to freshen up, I think of the cold Club beer I just saw in the ice chest in my room.
I come to sit with Andy, the CEO of the lodge on my balcony gazing at the elephants as they play in the waters below, after my refreshing shower, to have a beer and lunch. Ema has just appeared with a large tray, on which is arranged some rather very delectable fare! I swallow immediately upon setting my eyes on what I can describe as a feast for the eyes, the nose and eventually when I taste them, for the tongue! This is incredible cooking, I am thinking, it is definitely gourmet, and as I listen to Andy describe how he believes they can sustain attracting guests, which includes always providing fantastic first class food, I understand why!
I don't know who will not go on a 'see-food-diet' when they see this! First we have the crispy eggplant cut into sticks, which comes with a Greek salad as starters. It is yum, even though I thought I didn't like eggplant. Then, there is the Pan Asian veg soup. Again, I am not a fan of exotic soups, but this one has a taste that agrees with me so before I could say 'Jack', I am scooping the last bit of it. I surprise myself, or it is the simplicity yet delicate nature of the broth that gets me?
Next is the pounded beefsteak, which comes in a sweet yet savoury juice and when we finish it, both Andy and I actually ask for more! I divided my steamed rice into two on my plate, a portion for the steak, and the other side for the potato in Kontomre sauce that also comes as a main.
Young Udit, the new executive chef of the Lodge, who was recruited from India – a guy who had already cut his teeth from the world's most exclusive hospitality providers, RAXA Initiative has, since arriving in Ghana some seven months before for training into the Zaina way, - already started fusing some local ingredients into his arsenal of cuisine. The potato Kontomire sauce is lip smacking, although I had to toss in a few more pepper to heat things up to my taste.
My night was made when Udit brought in the Espresso Panacotta – like a frozen rich, creamy, velvety espresso - dessert himself. Of course, at this point, both Andy and I are stuffed, but we couldn't resist the panacotta. By just seeing it, we had to imbibe. Nothing has slipped down more smoothly on my tongue! When I become aware of myself, I realize I have my eyes closed each time I put a spoonful of it in my mouth.
The variety of tastes I have experienced, lingered through the afternoon, as we went on safari, a ride through the savannah bush, in their very robust safari style Land Cruiser, whose hood opens so that passengers can stand and see more clearly the landscape and any animal they may come across. We see many cob antelopes, duikers, warthogs, wild guinea fowls, baboons and even a buffalo! Here is where our drive considers the animals more than anything else so that when we come into contact with them and they do not budge, we rather make way and use an alternative route. They are in their habitat and it is wise to understand and respect that!
They would never hoot the van's horn, Issah and George, my guides for the afternoon, who tell me many tales of animal behaviour and some of their escapades. Previously hunters and then … in the park, now retired, they work as guides for Zaina, and boy, do they know the land! They can, by just observing the ground tell which animal has come this way, and whether they were running, injured or strolling!
It didn't take long to get to dinnertime. I anticipated it, of course. I wanted another journey across the world, to taste new delights and spices. I am not disappointed. The sprout salad that starts it off is divine. I mix it with the green peas potato salad and get another kind of amalgamation of tastes in my mouth! I wash it down with a bit of the vegetable broth. Then comes the main; pork chop with green pepper chimmichuri, and yam balls with tomato coulis! Heaven just became real for a moment in Mole! Zaina means beauty, and so far everything I have done since arriving here has been beautiful, particularly the welcome I even got when I arrived! It seemed my welcome party included all the staff, who greeted me at the entrance waiving both hands enthusiastically, humming 'Maraba' – Hausa for 'Welcome', like 'Akwaaba' in Akan! It was unnerving to be the center of so much attention! But it felt good!
By lunchtime on my second day, I put paid to his assertion that they would catch a crowd with their chow. They would, seriously! Although the facility is actually yet to be complete for an end of September opening, the kitchen is ready and fully operational with Udit and his F&B counterpart, PK who is also from India, churning out gourmet dish after another. A greenapple and walnut salad, Roasted pumpkin soup, shito marinated grilled chicken and Choux paste canal made before my very eyes and served me attests to Zaina's imminent supremacy in the African bush safari space, and experience in West Africa! Prepare for your dazzle.