Ivoirians/Burkinabes pass out in Disaster Preparedness Initiative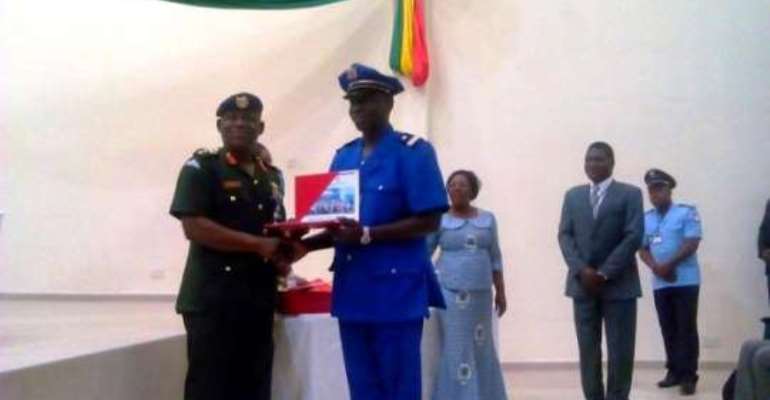 Accra, Sept 04, GNA - The Kofi Annan International Peacekeeping Training Centre (KAIPTC) on Friday passed out 101 participants each from the Ivory Coast and Burkina Faso in disaster preparedness and management under the West Africa Disaster Preparedness Initiative (WADPI).
The 202 participants form the third batch of the Economic Community of West African States (ECOWAS) member states to be trained at the Centre after Ghana, Benin, Togo and Senegal.
The WADPI training programme is being organised by the ECOWAS, in collaboration with the KAIPTC and the National Disaster Management Organisation for representatives from the governments of ECOWAS Member States from July to November.
It is being supported by the United States Department of Defense, the US Africa Command and the Operation United Assistance Transition Disaster Preparedness Project.
Major General Obed Boamah Akwa, the Commandant, KAIPTC in his closing remarks urged the participants to impact their new knowledge towards strengthening disaster management in their countries.
He observed that the KAIPTC remains a centre of excellence aimed at providing quality training facilities and expertise for disaster operations and peace support operations training.
Mr Sinare Halhassane, the Director of Cabinet/Minister in-charge of Civil Protection, Burkina Faso assured that his government would take the necessary steps to implement recommendations from the WADPI training programme.
General Dja Ble Joseph, Ivoirian former Interior Minister on behalf of his country and Burkina Faso extended appreciations to the ECOWAS, the governments of Ghana and the US for organising the training programme.
Ms Sarah Danso, the Course Coordinator said feedback received from facilitators and instructors indicated the dedication and enthusiasm of participants to the whole learning process, which had contributed to the success of the courses.
The main objective of the three-week training programme for West Africa region was to utilise lessons learned from the recent Ebola epidemic, and strengthen national capacities among 17 West African Partner Nations.
It also sought to implement an all-hazards approach to disaster preparedness and response management to ensure continued regional collaboration, communication and coordination between member States in disaster preparedness and response.
The training efforts focused on building the capacity of officials responsible for disaster preparedness and management regarding the lessons learned from the current Ebola crisis and to establish a foundation for a national-level, systems-based approach to preparedness.
GNA