GMA, government yet to reach agreement on service conditions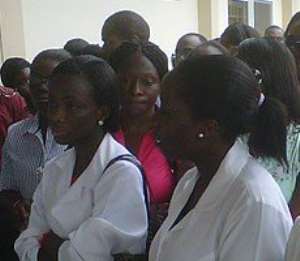 The Ghana Medical Association (GMA) and government are yet to reach an agreement on documented conditions of service two weeks after they resumed negotiations.
Negotiations resumed after the doctors called off their three-week nationwide strike on August 21, 2015.
Deputy General Secretary of the GMA Dr. Justice Yankson told Joy News although the Association has held series of meetings with government, doctors will not be satisfied with the process until the document is signed.
The Employment Minister Haruna Iddrissu has, however, promised the document will be ready by end of September.
The doctors withdrew their services on July 30, 2015 in protest over the absence of a codified conditions of service.
They were demanding a signed document detailing a number of entitlements to be given to them as part of their conditions of service.
Part of their demands included 40% of basic salaries as accommodation allowance per month, 20 percent as core duty facilitation allowance, 30% clothing allowance, 20% maintenance allowance, 20% utility allowance, 50% as professional allowance and 25% special risk allowance and vehicle tax exemption to doctors.
The decision to call off the strike was taken after an executive council meeting by the leaders of the Association.