Eleven Ellenda rioters remanded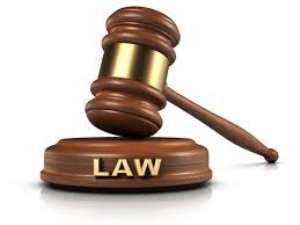 Half-Assini, Sept. 4, GNA - The Half-Assini Magistrate Court has remanded in prison custody 11 people from Ellenda near Tikobo Number One for unlawful rioting in the town.
They are Robert Enyiaku Nyanzu, 62, Ofori Kaku, 32, Andrews Mochiah, 24, all farmers, Joseph Kwaw, 32, driver, Emmanuel Aloko, 30, Teacher, Charles Ellea Kenyah, 64, immediate past Assemblyman for the town.
The rest are Eric Egyili, 22, Student, Emmanuel Muah, 25, Farmer, Sarfo Marfo, 36, Palm Wine Tapper, Noah Blay, 30, driver and J. K. Menlah, at large.
They were charged on six counts of abetment of crime, assaulting police officer, causing unlawful damage, conspiracy to commit crime, rioting, and causing nuisance & obstruction of road.
Their plea were not taken, and the court presided over by Mr Abdul Majid Illiasu ordered them to re-appear on September 14.
Prosecuting, Police Sergeant Isaac Ebo Otoo, said complainant in the case is Nana Kyeku Anyimiah the fifth, chief of Ellenda, while the accused persons are natives of the town.
Sgt Otoo said, early last month the former chief of Ellenda, Nana Kyeku Anyimiah the fourth, passed away and his burial was planned on August 28.
Sgt Otoo said on the day of burial, J. K. Menlah ordered Asafo drums to be beaten, and also organized some youth of the town to riot against the burial of the late chief.
He said upon intelligence, Police was asked to escort the corpse and bereaved family for the burial.
Sgt Otoo said about 200 metres to the town, the Police and the family found that the access road to the town had been blocked with logs and pieces of woods.
According to the prosecutor, Police arrested some of the rioters, while others including J. K. Menlah, managed to escaped.
He said Police after the arrest managed to clear the road to the town for the burial, and while patrolling in the town to maintain peace, Robert Nyanzu confronted them.
Sgt Otoo said Nyanzu attacked and bit the finger of Police Chief Inspector Abuoro Dekumwin and the stomach of General Constable Sadick Zangina Ahmed and torn his uniform in the process.
He said the suspects were later arrest.
The prosecution prayed the court to remand the accused persons because the case was still under investigation.
GNA