Tension In Wenchi Over Krontihene's Conviction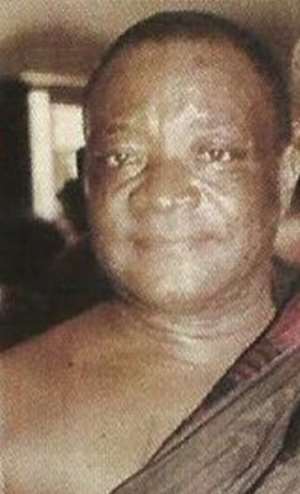 Tension is mounting in Wenchi in the Brong-Ahafo Region following the continuous detention of a 73-year-old former Clerk of Parliament, who is the Krontihene of the Wenchi Traditional Area.
Nana Owusu Ansah Kokroko II, known in private life as Rex Owusu Ansah, is serving a six-month jail sentence for his involvement in an assault case; but a Sunyani High Court's decision to decline him bail is raising tempers in Wenchi.
Currently, he is on admission at the Techiman Holy Family Hospital under guard due to his deteriorating health. Nana Ansah Kokroko II is reportedly suffering from severe medical conditions associated with his advanced age.
According to sources from the Wenchi Traditional Council, his continuous detention has further deepened the chieftaincy feud in Wenchi, an area security experts have described as a hotbed for chieftaincy violence.
The Krontihene, together with another chief, Nana Abrefa Nketia, were jailed six and nine months respectively by a Techiman Circuit Court presided over by Emmanuel Opare on August 13, 2015 for assault. They were charged for their involvement in the assault of Mrs Helena Apau, wife of Justice Yaw Apau of the Supreme Court, whose purported nomination as queen mother of Wenchi was being contested.
The two prominent chiefs, together with Nana Drowaa, believed to be the substantive queen mother, were said to have stormed the house of Mrs Apau, where the two chiefs were said to have assaulted the purported queen mother nominee and her subjects.
The matter was reported to the Wenchi police who later arrested the three. The case had been pending since 2013 until the final judgement last month.
When the application for bail pending appeal was brought before the Sunyani High Court presided over by Justice John Nabosco Nabrese, it dismissed the application on the grounds that the trial court did not err in its ruling.
Curiously, the judge dismissed the application even though the Attorney General's representative did not oppose the application for bail pending appeal.
The AG's Department had explained that the chief had filed an appeal against both conviction and sentencing and that the Krontihene might have valid grounds for the appeal and was therefore not opposing a bail application even though they still affirmed the six-month sentence handed to the Krontihene.
This compelled lawyers for the convicted chief to re-file the application for bail pending appeal and attach copies of his medical certificate as evidence of his deteriorating health. Unfortunately, it was once again dismissed by the judge.