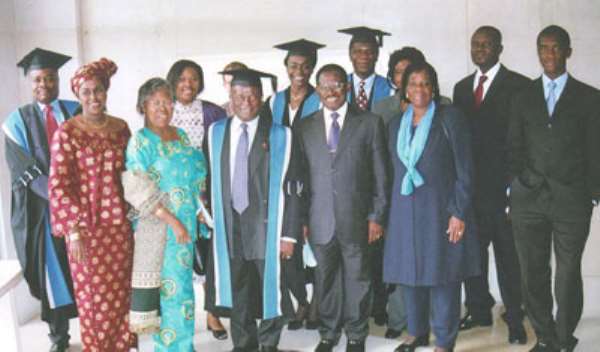 Prof. Frederick Torgbor Sai, Presidential Adviser on Population, Reproductive Health and HIV/AIDS was among four Ghanaian doctors who were honoured by the Royal College of Obstetricians and Gynaecologists at an impressive ceremony in London.
He received a certificate as an Honorary Fellow of the College for his distinguished services in Ghana, Africa, the Caribbean and Europe.
The other Ghanaian doctors, admitted as fellows to the College, were Dr. Andrews Opare Amoah, Associate Specialist, Queen Elizabeth II Hospital, Welwyn Garden City, England; Dr. Paul Kwamina Anfam Mensah, Consultant, Dumfries and Galloway Royal Infirmary, Dumfries, Scotland and Dr. Ama Adwibi Anima Kyei Mensah, Consultant, Whittington Hospital, London Preston, England.
Mr. Kwabena Baah-Duodu, Deputy High Commissioner to the UK who attended the ceremony congratulated the recipients for their contributions to the medical profession.
He expressed the hope that the honour done them would serve as an encouragement to other Ghanaian professionals in their various fields of endeavour.
Professor Sai qualified in London in 1953 with honours with distinction in Obstetrics & Gynaecology. He then worked as a Medical Officer in the Ghana Government Service. In 1959 he went to Edinburgh University on a government scholarship and obtained his MRCP.
From there he proceeded to Harvard School of Public Health on a WHO fellowship obtaining a MPH. He returned to Ghana in 1961 as a Physician Specialist in Human Nutrition and Deputy Chief Medical Officer in the Ghana Government Service. From 1963 to 1966 he was the Regional Nutrition Officer for the Food and Agriculture Organisation of the United Nations responsible for projects in the sub-Saharan African countries. In 1966 he was appointed the first Professor of Preventive and Social Medicine at the University of Ghana and in addition was Director of Medical Services to the Ghana Government from 1970 to 1972 with responsibility for the total health services of Ghana.
From 1972 to 1976 he served as an Assistant Secretary-General of the International Planned Parenthood Federation based in London. He was appointed International Co-ordinator for Africa, the Caribbean and Europe at the United Nations University from 1978 – 1982. At the same time he continued as a part time adviser to the Planned Parenthood Federation, helping in particular to organise the 1984 International Population Conference held in Mexico. He is currently the Presidential Adviser on Population, Reproductive Health and HIV/AIDS.