NDC Fights Over Assembly Polls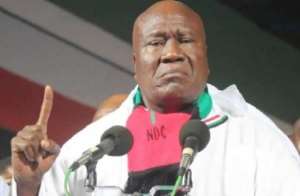 Kofi Portuphy
Some youth activists of the ruling National Democratic Congress (NDC) in the Bibiani-Anhwiawso-Bekwai constituency of the Western Region are calling on the constituency executives of the party to resign with immediate effect.
According to the NDC youth, the call had become necessary because their (executives') attitude contributed to the poor performance of the NDC in the just ended district level elections in the area.
They accused the constituency executives of not doing enough to ensure that the NDC wins in majority of the electoral areas in the district and the unit committee polls.
The aggrieved party activists pointed out that even though the district elections were non-partisan, the two major political parties in the country – NDC and the New Patriotic Party (NPP) - clandestinely used the elections as a yardstick to assess how their performances would be in the 2016 general elections.
Spokesperson for the NDC youth in Bibiani, Evans Arhin, who confirmed the story to DAILY GUIDE, stressed that the constituency executives should all resign.
'The constituency NDC executives did not put in any efforts to ensure that the NDC wins in majority of the electoral areas, unlike what our opponents did,' he alleged.
He told DAILY GUIDE that out of the 36 electoral areas in the constituency, candidates perceived to be members of the NDC won in 12 while those secretly aligned with the NPP were victorious in 24.
He alleged that the strategies adopted by the NPP in the area worked perfectly for the party, claiming that the NPP did not allow two candidates to contest one electoral area, the opposite of which was the case with the NDC.
'Our constituency executives could not call those candidates to order and allowed them to contest which had attributed to the party's abysmal performance in the district level elections,' Evans Arhin fumed.
He stated, 'In each of about five electoral areas in the constituency, more than three NDC activists contested and the constituency executives looked on unconcerned.
'In fact, the youth here are angry because this is the only constituency in the northern part of the Western Region that had not been able to deliver the area to the NDC. This is because our constituency executives are not working and so I think they should resign,' Evans Arhin indicated.
From Emmanuel Opoku, Takoradi