Kalyppo Kares Screened Jamestown Children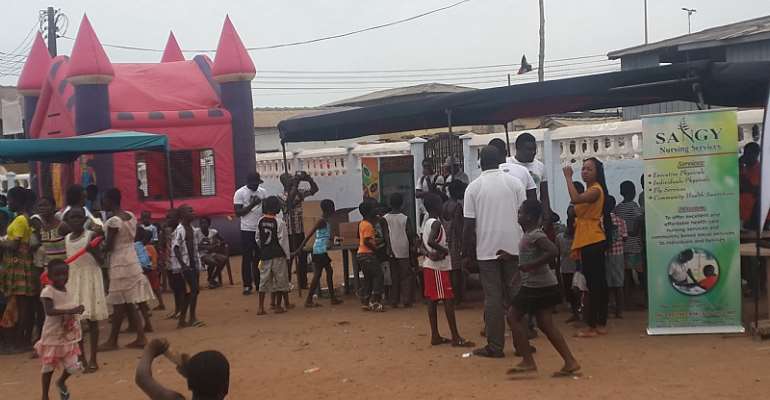 Hundreds of children thronged the premises of Mantse Agbona, Jamestown, to receive free health screening from the Kalyppo Kares project of Aqua Fresh Limited. As part of their corporate social responsibilities, the company provided free health screening to children in the Jamestown community in their "Kalyppo Kares for Kids" program.
This program saw kids being screened by professional nurses and also being sensitized on various health issues. The Kalyppo Kares for Kids program have already taken place in Madina and Kwabenya and it was the turn of children from Jamestown.
According to the stool secretary of Ngleshie Alata stool, Nii Akwei Bonsu III the community lagged behind in areas like healthcare and education over the past decades because of the relocation of companies to other areas. He called on investment opportunities in the community. He therefore applauded the work of Aqua Fresh Limited for putting together this wonderful initiative to combat health problems among children in the area.
The CEO of Sangy Nursing Services, Mrs Sara Nana Yeboah also gave her comment on the exercise. According to her, over five hundred children were screened and the predominant conditions among the kids were anaemia and malnutrition. .
The Free Community Health Screening in Jamestown also came with some fun activities including music and dance competition, lime and spoon race as well as bouncy castles. There were also souvenirs given to winners of the dance and music competition. These children took turns to enjoy themselves after the screening and health education.
Kalyppo Kares for Kids seeks to help in the well-being of their target groups to keep them fit always through their preventive health program. The next community to be a beneficiary of this screening is Tema at the Twedaase Basic School Park on 5th September, 2015.