Asare Akuffo Grabs Lifetime Achievement Award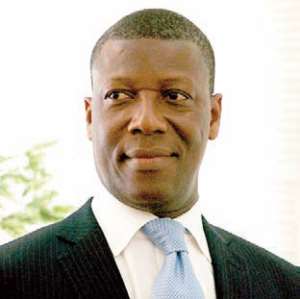 Asare Akuffo, former MD, HFC Bank
Former Managing Director of HFC Bank, Asare Akuffo, has called on bankers to improve their skills continuously, saying skills combined with integrity and patience can only lead to success.
Asare Akuffo made the call after he received a Lifetime Achievement Award at the 14th Ghana Banking Awards ceremony in Accra.
He also advised young bankers to endeavor to be ethical in order to earn the respect they strive for.
The Ghana Banking Awards is organized by Corporate Initiative Ghana in partnership with Graphic Business to recognize industry players who excel in their field of work.
Asare Akuffo's Lifetime Achievement Award was inspired by his 25 years of effective and dedicated service to the nation through his immense contribution to the banking and finance industry.
The citation lauded him not only for the leadership role in the establishment of the first collective investment scheme in Ghana, HFC Unit Trust and the HFC Investment Services, but also for the establishment of the first Real Estate Investment Trust in Ghana.
'Under your guidance and leadership, HFC Investment Services has established itself as a reputable institution in Ghana today'.
Among other achievements, the citation stated that in 1995, Mr Akuffo played a vital role in overseeing the listing of the first corporate bonds on the Ghana Stock Exchange.
As Managing Director for 10 years, he established HFC firmly in the banking landscape in Ghana, expanding branch network from five to over 40.
He also extended the bank's diversified financial services to the cocoa growing areas of the Western Region.
Besides the introduction of special affordable housing scheme for public servants at interest rates of 15% and lower, Asare Akuffo's tenure recorded growth in assets, growth in share price and the HFC brand attractiveness.
He served as President of the Ghana Association of Bankers, President of the Private Enterprise Federation (PEF) and Chairman of the African Union for Housing Finance.
A member of the Institute of Chartered Accountants, Ghana and an honorary Fellow of the Chartered Institute of Bankers, Ghana, Asare-Akuffo also has an honorary doctorate degree from KNUST.
'In 2013, the Kwame Nkrumah University of Science and Technology (KNUST) conferred on you an Honorary Doctorate Degree,' it said.
Twenty five banks in the sector took part in the 14th Ghana Banking Awards ceremony.
It was on the theme: 'Identifying and Rewarding Excellence in the Banking Services Proposition.'
A business desk report