National Service Person? Then Note These 10 Wisdom Nuggets…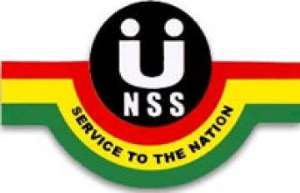 National service is one inevitable stage in the life of every Ghanaian who completes a tertiary institution, especially if the school enjoys government subvention. Release of postings is often greeted with mixed reactions, with some people being very happy with their stations and others wishing they had gotten somewhere else. For most people, National Service is an opportunity to give back to ones country in the spirit of patriotism while others see it as a form of probational job opening, at the end of which one may either get retained or laid off.
Whichever way you see this, my point lies in the fact that whatever you lay your hands on, do it with due diligence as one may never know what good could possibly come out of it now or in the not so distant from now. Therefore, it would benefit you as well any other person you recommend this publication to, to take note of these ten carefully thought out wisdom nuggets that I trust would get u an inch closer to being retained in your national service office after all is said and done or would contribute to your success in life later on. Let's begin now.
Accept your posting as an integral part of you
It would be extremely difficult for you to succeed in your new endeavor if you do not accept the posting and its accompanying responsibilities first of all. You need to sink it down your mind and soul that this is going to be part of your identity at least for the next one year of your life. This is going to help align your thinking with this new situation so that you begin to see it as being just as important as other aspects of your life. This is really important. It is not about which company or establishment you are placed in but the need for you to make a good name for yourself. This would also mean that you have to find out a lot about the institution and what they are about so that you would know what exactly you are involved in. Do not be lazy about this. Use the internet to your advantage and make sure you find out all details necessary. If possible, get the customer service line of the company from online and give them a call. This would open you up to a lot of things that you were probably assuming previously, but which might not be entirely true. Having done this, your mind would have been fully prepared to face the task ahead of you.
Observe a lot, listen a lot, talk little
It is imperative that you observe a lot because many are the things that would not be taught you at orientation. Make optimal use of your eyes by using it to study practices that are observed in your new workplace so that you can follow suit if necessary. This would indirectly mean that you are being entreated to make less use of your mouth, but rather your eyes and ears. Use your eyes to see and take note of happenings and proceedings at the office or field, while your ears would help you listen attentively to instructions that are given you. In fact instructions are very important in the world of work because at times, petty mistakes can indeed result in great losses which (if it happens) would have already cancelled your name even from the list of shortlisted service personnel. Therefore listen attentively and seek clarification where necessary so that you do not do anything contrary to what has been assigned you. You may seek such clarifications using phrases like 'so you mean that I should….' This would afford you an opportunity to have your superior repeat whatever it is he or she was telling you so you can have a better grasp of it.
Businesses have become extremely competitive these days and managers are constantly on the look-out for potential talents that could bring new things on board in order to push the firm a step or two above its competitors. Therefore it would be a feather in your cap if you could learn to be innovative especially when you are faced by unfamiliar problems out of which you need to find a way. You must be able to make adequate use of your mental faculty so that you can unleash you mental prowess to find solutions, even if temporary, to problems that come up with regards to your work. Read a lot even if what you are reading does not directly concern your field of work because it would eventually broaden your scope of knowledge thereby making you fit into more than one position. You never know when your boss might call upon you to help him out with a situation and you can imagine what good you would be doing yourself if indeed you happen to have the solution to his problem. Hence, do not be mentally lazy. Make optimal use of your reasoning abilities.
This point is not one that should be taken lightly at all because I know what harm making such a mistake could lay at your doorstep. You see, there are a lot of people you would be making acquaintance with in this your new place of work, some of whom attended less endowed tertiary institutions and others are might even have a less qualification than yours. And so you might be tempted at a point to feel superior to them. But NO! You must never allow the temptation of ' I am a degree holder' to set in. Otherwise you will not know anything by the time National Service is over. Allow yourself to be taught, because most of what we learn in the lecture halls are entirely different from what actually happens in the field of work. You will need more than book knowledge to carve a niche for yourself as an outstanding National Service Personnel. Therefore, forget about your degree as though it does not even exist and keep your focus on learning new things. Even top managers of firms still learn, which is why they go for periodic workshops and training. How much more a fresh graduate with very little or no work experience?Learn a lot so that you can contribute to the organization and give the authorities a reason to consider employing you.
In a world where most young people appear to be increasing unserious with things that would help them succeed in life while paying attention to less important things, it is worth noting that the national service personnel who aims at being retained better learn and practice some really good work ethics. First of all, you must do well to be present at work and on time as well. Do not fall for the temptation to copy wrongly, what some employees do, especially with government owned establishments. Work time is not time for Facebook, WhatsApp, twitter and all those other forms of social media addictions, neither is it a time to watch movies and telenovelas. You must bear in mind that every one second you spend on any of those sites makes the owners richer by several billions of dollars, at the exp0ense of your own firm in which you work. Do not let your boss catch you doing these things because even if he doesn't complain instantly, it can go a long way to affect you when you eventually tender in an application letter to be retained after your service. Do well to practice good work ethic as may be spelt out for you, so that you may be on your way to earning a qualification spot for employment.
If you happen to receive a warm reception where you are working, then you are most likely to come across the temptation to think that you are on the same level with other staff members. This could be a dangerous trap. Always remind yourself that you are like an employee on probation. Therefore what do students on probation do? They put in more work than everybody. They learn more. They seek knowledge. These are attributes which you might have to inculcate. Do not get too comfortable following peoples footsteps as you would find out on the last day that you all came in individually. Respect all those who have been there before you even if you hold a higher qualification than they do. You are a national service personnel and you need to stay within your permissible limits for your own safety. I am not asking you to be timid either, but only asking you to cut your coat according to your material.
Hold your dignity in high esteem
You know the difference between red, blue, green, white and all other colors. Therefore on no account should you be caught misrepresenting any of these letters for another. Let truth guide your and hold your values in high esteem. Dignity is highly important especially in a world where everybody is cheating someone out there for personal gain. This goes especially for those of you service personnel who would be working in places where a lot of cash inflows are recorded on a daily basis. You need to stand out and bear in mind that this unique quality could become extremely beneficial to you in getting future appointments elsewhere, even if you do not get employed after service. Be trustworthy, honest and reliable. They all pay. Trust me.
Feel free to take up challenging tasks
You know one of the biggest obstacles of our time? Too many people want to make it the easy way. Only a few people are willing even without persuasion, to take up challenging tasks and do them with diligence. Now, since these people are few and are in short supply, it would mean that the dynamics of economics have placed them in high demand. My dear friend, I want you to desist from avoiding tasks that are difficult to perform. Some people would always hide their faces behind others so that they do not ever get called\. But this is wrong entirely. Everybody can do the easy things; but it is in doing the difficult things that you give your boss a chance to discover that indeed, you belong to the crop of revolutionary employees the company needs. Such difficult tasks allow you to unearth your potentials which you might not have been aware of.
Display a high level of self-confidence and self esteem
BELIEVE IN YOURSELF. Believe so much in yourself that you are not scared to stand in front of the President to talk or do anything. You see, for most people to believe in you, it would be as a result of what you probably have proven to them that you can do. And for you to be able to do that much to earn peoples respect, you must first of all believe in your ability to do those things. Mind you, I am not urging you to become so full of yourself and become one arrogant charlatan who always overrates himself. NO. Far from that. Rather, I only want you to trust yourself and have a good self-esteem. When you face the CEO of your company, it is not your degree that would give you the nerve to interact with him or her on a mature level, but your level of confidence. Never allow the presence of anybody to intimidate you. You must train yourself to be able to face crowd as well (especially the ladies). High self-esteem would improve your mood and in effect, lead you to a better work output.
Pray a lot to whatever you worship
Probably most of you would have reservations about the language used in this point. But even though I am a Christian this paper is not meant for only Christian or Muslim readers; and so it becomes important to use a general language. Irrespective of whatever work you put in, your efforts would not amount to nothing if your physical efforts are not complemented by spiritual backing of the same gravity. Therefore endeavor to pray and ask for guidance and protection. This way, your efforts would have been made complete, as you would have covered yourself both in spiritual and the physical realms.
My dear national service personnel reading this, I trust that all of you have it as a goal to succeed in life. Therefore, do not just go and do national service , but do it diligently irrespective of wherever you find yourself; be it a school, hospital, company, bank or whichever place. You might not be retained after service, but trust me the probability of you meeting someone later in life from your service posting is very high. Therefore give them a reason to write positive recommendations about you. Now go and conquer your world. #imaginedteam
Nathan Qarboo Tetteh (Motivational Speaker/ Life Coach) +233244903748 [email protected]