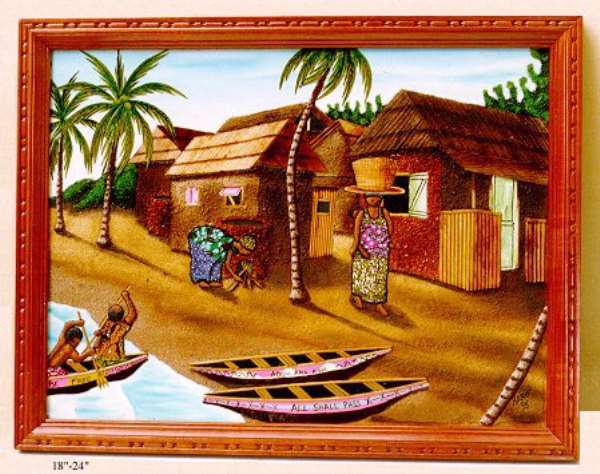 An art exhibition of paintings and sculptures depicting Ghanaian ancient creativity and its influence on contemporary African-American art forms has opened to a crowd at the Embassy of Ghana in Washington,DC. Dubbed Ancient Traditions-Contemporary Forms, the opening of the visual exhibition had a performing arts compliment from the professional Anansegroma Group.
The one month exhibition which ends on October 31, 2004 has over 40 paintings from 13 Ghanaians based in Ghana and 13 African-American artists across the United States.
A collaboration between the Embassy and the Creative Artisans, a Washington,DC based art consultancy centre, it was opened by Ghana's Ambassador to the United States H.E. Fritz Kwabena Poku. He told the crowd that by ''establishing and re-defining the nexus between ancient traditions and contemporary forms of art, the creative artists, represented by Ghanaian and African-American artists are, in a sense, giving us vivid glimpse into the past, present and future.They are, in more than many ways, also reaffirming the bonds and blood ties that link Africa and Africans in the disapora. They are helping us to appreciate the contributions they have made and can make to the evolution of our civilised world."
With acrylic on canvas works and subtle titles such as Mother and Child, Ancestors, Adowa and textile painting of Martin Luther King,Jr under Freedom Fighter, the exhibition also has two works of the late distinguished Ghanaian artist Dr. Oku Ampofo has already attracted positive publicity in The Washington Post newspaper.
According to the head of Public Affairs at the Embassy, Mr. Ivor Agyeman-Duah in a welcome address, the exhibition could become a bi-annual event not only to expose the art works and culture of Ghana but also generate revenue for artists and expose them to greater international contact.
Mr. Agyeman-Duah said a lot of planning went into the exhibition and indicated that a symposium on the theme : Ancient Traditions-Contemporary Forms will be held at the Embassy in conjuction with Howard University on October 14, 2004. The Exhibition produced a companion catalogue with essays by the Chief African-American curator and President of Creative Artisans Myrtis Bedolla, co-curator Kwaku Ofori-Ansa, professor of African art history at Howard University and Ivor Agyeman-Duah. It also has all the exhibited works in pictorial forms and the profiles of the 27 artists whose works were selected for the exhibition.