NPP Germany To Raise €150,000.00 For 2016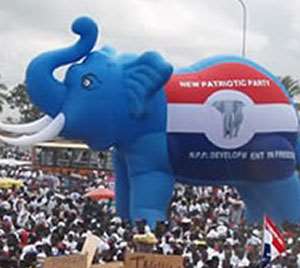 With just sixteen (16) Months to the Parliamentary and Presidential elections in 2016, the Germany Branch of the New Patriotic Party (NPP-Germany) is gearing itself in readiness for the battle and subsequent victory.
In furtherance of this objective, NPP-Germany has set out to raise at least One Hundred and Fifty Thousand Euros €150,000.00 to support the 2016 polls which the New Patriotic Party is widely expected to win.
Reverend Alex Acheampong, Chairman of NPP-Germany announced this at the National Council meeting of the party over the weekend.
According to him, the money would be raised through fund raising activities, membership dues, elections levy, voluntary contributions as well as donations from well-meaning Ghanaians resident in Germany who want to see a change in Ghana.
Reverend Acheampong explained that as a first step members have unanimously agreed to the payment of an election levy of €500.00 for each NEC member while chapter Executives and non-office holding members pay €100. 00 and €20.00 respectively.
He disclosed that a number of fundraising events have been planned for the coming months and the rest of 2016 and said apart from the National programme, local chapters are also encouraged to initiate and embark on their own fundraising activities.
The Chairman told the meeting that the monies raised would be used to support some yet to be decided constituencies during the elections adding "we have to be very strategic in our choice of the constituencies hence, we must direct our resources into constituencies where we can make the greatest impact and get value for our money."
He paid tribute to the dedicated services and sacrifices of some of the party activists back in Ghana and said the least members of the external branches can do is to support these selfless men and women with financial and material resources
Reverend Acheampong assured all party supporters and sympathisers that all monies raised would be put into good use in a transparent and accountable manner.
The chairman called on Ghanaians in diaspora to rally behind Nana Akuffo-Addo and the NPP to salvage Ghana from the current economic crisis which is as a result of incompetence, corruption and outright mismanagement by President Mahama and the NDC.