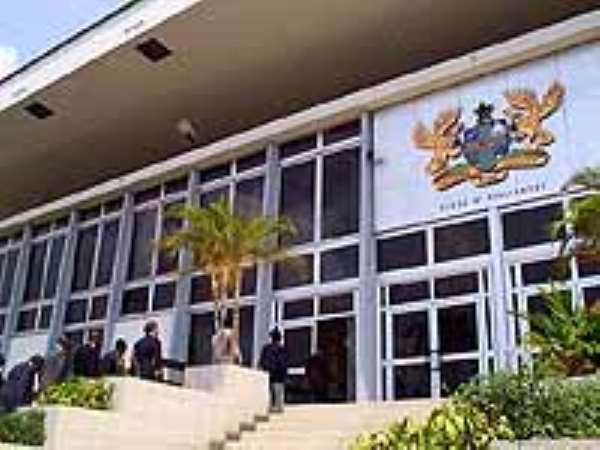 Accra, Oct. 4, GNA - When Parliament reconvenes on Tuesday, it will sit at the Banquet Hall of the State House to give way for the completion of the expansion of the Chamber, which would accommodate 230 members of Parliament in 2005.
In an interview with the Ghana News Agency in Accra on Monday, Mr Jones Kugblenu, Director of Public Affairs at Parliament House, said although there was limited space at the Banquet Hall, provision had been made for the 200 members, 30 Journalists and the public. He said work at the Chamber was scheduled for completion before January 2005, when the new Parliament would be sworn in after Election 2004 on December 7.
Provision has been made for 250 seats to ensure that Ministers, who are non-members of the House, could be accommodated from time to time to attend to the business of the House. Touching on how business of the House would be affected by anticipated poor attendance by MPs, due to campaigns for the elections, Mr Kugblenu said the Standing Orders were clear on the need for members to seek permission before staying away from the work of the House. However, he noted, this session of Parliament would cover only one month - October 5 to November 5, to enable members seeking re-election to have enough time to campaign.
Mr Kugblenu said committees were meeting during the recess and this would no doubt ease the burden when work began on Tuesday. He said a number of bills would be passed and some urgent questions would be dealt with to ensure that all outstanding businesses were completed before the dissolution of Parliament.