No elections in Nkoranza North and South - EC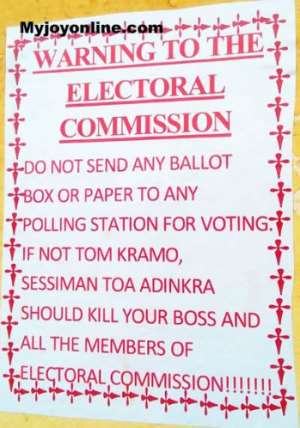 Voters of Nkoranza North and South districts of the Brong Ahafo region are not participating in the ongoing District Assembly elections.
The Electoral Commission says it has been advised by the regional and the district security councils not to hold elections there because of a possible disruption of the process.
"So we heeded the advice …the elections will not take place in those two districts today" acting Public Affairs Director of the EC Christian Owusu Parry told Multi TV's AM Show Tuesday morning.
He said that the commission has received reports that some youths were planning to disrupt Tuesday's elections.
The residents in the two districts have invoked curses against any EC official who would set up polling centres in these areas.
The residents are asking the Bank of Ghana (BoG) to lift a ban it placed on four investment companies in the area to enable it pay its numerous customers who have been suffering since the ban was imposed.
At Bimbilla in the Northern region, some residents also threatened to boycott the exercise.
The area has been under a 4pm to 6am curfew following years of chieftancy disputes that has often turned violent. The curfew has been adjusted to 7pm and 6am to allow residents participate in the election.
But the residents said this shows government places more value on the election than their lives.
Christian Owusu Parry says this has not officially come to the attention of the EC hence the election is ongoing.
Tuesdays exercise including the botched march elections has cost the nation some 400 million Ghana cedis.
Organizing the exercise in areas not taking part in the polls today may not cost extra, Mr. Owusu-Parry disclosed.
"We have already printed the ballot papers and depending on when the security will indicate to us that in the Nkoranza area in particular we can go and hold the elections we can still use the ballot papers".
He is confident the courts will make a determination soon for elections to be carried out in areas hit with injunctions.