Chief Bans One-Week Funeral Celebration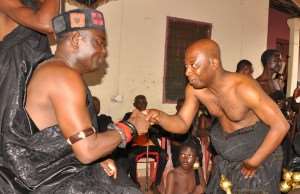 Obrepong Taa-Asiakwa Agyemang Adjei IV receiving homage from one of his subjects
The Chief of Asante Asiakwa, Obrempong Taa-Asiakwa Agyemang Adjei IV, has placed a ban on one-week celebrations for the dead as part of stringent measures aimed at reducing the high cost of celebrating funerals in the traditional area.
The affected communities include Barekese, Poano and many others which fall under his authority.
The chief said the situation where bereaved families often organise grand funeral gatherings with expensive drinks and liquors to mark the seventh day of the dead is not only improper but also uncustomary and offensive to the Asante tradition.
Speaking at the sitting of Asiakwaman last week Thursday, Obrempong Agyemang Adjei stated that offenders breach the traditional oath of Asiakwa, warning that such breaches come with damning consequences. He therefore cautioned residents to be mindful of the ban.
According to him, as the traditional uncle of Otumfuo Osei Tutu II, he and his people are ready to protect and defend the traditions of the Asante people.
'In the olden days, bereaved families used the seventh day of the dead to make preparations and arrangements for the final funeral rites, devoid of grandiose, fashionable and arty parties and celebrations,' the chief recalled.
Sounding angry and worried, the newly installed chief said modern day people have turned funerals into entertainment and merry-making events, spending lavishly to the detriment of the living.
'I am saying to the hearing of all gathered here today that the one-week celebration of the dead that has been turned to merry-making has been banned with immediate effect. It is alien and uncustomary and cannot be countenanced,' he stressed.
The chief noted that the paying of last respect to the dead should not be done in a way that overburdens the poor in society, intimating that some families were plunged into huge debt as a result of such lavish and grandiose funeral celebrations.
The 58-year-old recently swore the oath of allegiance to Otumfuo Osei Tutu II to become Obrempong Taa-Asiakwa Agyemang Adjei IV. He is known in private life as Kwadwo Adjei.
By Ernest Kofi Adu, Kumasi