2085 Deployed For Assembly Polls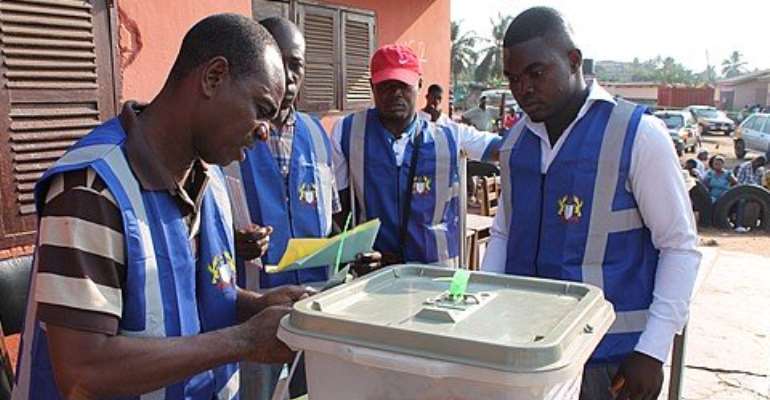 THE POLICE Administration has deployed 2,085 personnel to regions across the country to oversee the district assembly elections slated for today.
The personnel were drawn from the Ghana Police Service and its sister   agencies, including the Ghana Prisons Service, the Immigration Service, the Fire Service and Customs.
COP John Kudalor, Director General in-charge of Operations,   charged personnel to exhibit professionalism and uphold peace and ensure security in the various districts they have been deployed.
He told personnel to apprehend culprits or call the appropriate authority for redress, should they encounter any problem.
'Each area has been zoned and there are patrol teams patrolling those areas so anyone who causes any problem, the patrol teams will be called to pick them up to the nearest police station," he revealed.
COP Kudalor mentioned that personnel from the Customs and Immigration Service have been deployed to the Eastern and Volta regions respectively.
"Two separate batches of prisons officers – 449 and 200 - have been moved to the Ashanti and Central region respectively. Batches of the Police, made up of the CID/Service Workshop/Central Band and Training Schools have also been sent to the Northern and Brong-Ahafo regions."
Meanwhile, Superintendent Cephas Arthur, Director in-charge of the Police Public Affairs Directorate, said in an interview that personnel for the Greater Accra would be deployed today because they do not have to travel like their colleagues.
In the Western, Upper East and Upper West regions, he noted that there are enough officers to manage security for the district level elections, hence there would be no need for deployment.
"Personnel from the Fire Service will be supporting officers in Accra,' he added.
 By Linda Tenyah-Ayettey
[email protected]