Ezenator Could Win Korle-Klottey Hands Down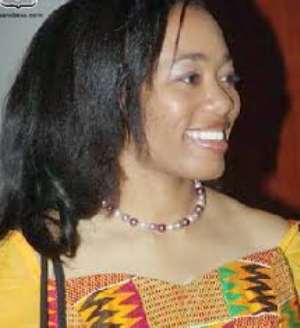 If you have been following my media fare, you darn well know that the name Rawlings is not one that I have any fondness for. My disaffection with that name is purely political, although there is inevitably a personal edge to the political. For the two prime holders of that name have done irreparable harm and damage to too many Ghanaian people and their families, in the bloody couple's bid to grabbing for the undemocratic reins of governance.
But I also think that while the wanton atrocities and terror visited on innocent and unsuspecting Ghanaians ought not to be forgotten, nevertheless, it is also right and proper not to unduly visit the crimes and sins of the parents on the children.
The decision by Dr. Ezenator Rawlings, the eldest daughter of Chairman Rawlings and Nana Konadu Agyeman-Rawlings, to contest the Korle-Klottey parliamentary seat in the National Democratic Congress' November 7 parliamentary and presidential primaries ought to be welcomed, provided Dr. Rawlings can be shown to be a bona fide resident of the Korle-Klottey Constituency in good membership standing in the ruling party. So far, it is being widely alleged by some NDC local executive operatives that the daughter of the founding-father of the National Democratic Congress is not known to be a committed and an active member of the party.
In other words, Dr. Rawlings is being accused of being a brazen political opportunist who wants to cozily ride on the coattails and/or crest of her father's fame, fortune, influence and affluence in order to clinch a seat in the august House of our National Assembly (See "We Don't Know Rawlings – NDC Executives" Starrfmonline.com / Ghanaweb.com 8/29/15). If, indeed, she has not paid her dues like the rest of her competitors, then Dr. Rawlings has a lot of explaining to do.
But ultimately, the judgment call does not belong to any party hacks or apparatchiks but the constituency delegates. Much would also depend on the nature and tenor of her campaign platform, and the latter's relevance to the needs and aspirations of her prospective constituents. She also has to explain why she thinks she would be more effective in parliament than practicing the trade for which she spent nearly a decade in training.
I, however, do not agree with Mr. Ben Ephson, the media operative turned pollster, that Dr. Rawlings would be better off distancing herself from former President Jerry John Rawlings. Looking at her mugshot on Ghanaweb.com, the first thing that came to mind was the maxim "The apple does not fall far from its parent tree." Mr. Ephson's rationale for admonishing Dr. Rawlings to steer clear of her infamous father is that there are quite a slew of NDC operatives whose family members and relatives suffered a lot under the June 4 and December 31 Rawlings-led faux-revolutions.
My terse riposte here is that anybody who suffered considerable loss under the bloody tenure of Chairman Rawlings, who still feels an affinity for and the need to maintaining a membership of the National Democratic Congress, must deeply have enjoyed such atrocities as are widely alleged to have been visited on him/her by the NDC patriarch. They may simply be pathological masochists, and I have absolutely no sympathy, whatsoever, for such people. They, likely, may be as opportunistic as Dr. Rawlings is being accused of. And who said birds of identical plumes do not flock together?
Actually, to win the Korle-Klottey seat and subsequent elections, Dr. Rawlings may need to explain to primary delegates and her prospective constituents at large, what makes her a totally different species and/or breed of politician than her parents. If she can eloquently and convincingly pass this test of political credibility, then, even as I adumbrated in a previous article, her primary political opponents would be easily toasted for breakfast in Korle-Klottey come November 7.