Low Interest For Assembly Elections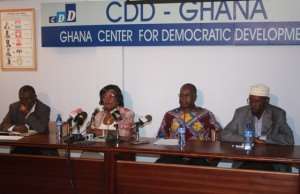 (from left) Albert Ahim, Prof Greenstreet, Ambassador Tsegah and Sheikh Armiyawo
A survey conducted by the Coalition of Domestic Election Observers (CODEO) suggests that Ghanaians are generally not interested in today's district assembly and unit committee elections.
This was contained in a report from a Pre-Election phase survey of the district assembly electoral process in which 86 districts were randomly selected across the country.
According to Prof. Miranda Greenstreet, Co-Chair for CODEO, the report revealed that most Ghanaians did not know much about the district assembly elections.
'Some members of the public also displayed limited knowledge on the concept of local government and consequently the need for them to vote in the local government elections,' she stated.
Prof Greenstreet, attributed the lack of interest in the district assembly and unit committee elections to the rescheduling of the date from March 3 to today, September 1.
She expressed concern about the delays associated with the conduct of the district assembly elections and wondered if such delays would have political and legal implications on local governance.
'Over the years, the country's management of district assembly elections has not been the best and such attitudes affect local governance and undermine effective grassroots democracy. It is important that as a country, we pay particular attention to our district level elections and make it more attractive to deepen citizens' participation in local governance,' she said.
CODEO has deployed over 700 election observers to all the 10 regions to monitor the ongoing polls.
These polling station observers will follow and observe voting proceedings at their assigned polling stations from start to end of the voting process. The observers are required to observe the quality of the voting process, the conduct of election officials and the participation of marginalized groups,' the CODEO co-chair added.
OccupyGhana Encourages Ghanaians To Vote
In a related development, pressure group, OccupyGhana, has urged all qualified and registered Ghanaian voters to fully participate in today's elections.
The group noted that it is important for voters to exercise their franchise and vote for the right individuals as assembly members.
'It is important to elect competent, hardworking and honest individuals who are capable of bringing positive change to our various communities in today's assembly elections,' a statement copied to DAILY GUIDE charged.
OccupyGhana also advised voters to be vigilant and ensure that the elections are free and fair while the process remains peaceful.
By Nii Ogbamey Tetteh
[email protected]