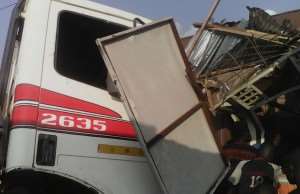 The damaged container and the truck
THERE WERE melancholic scenes at Kronom Afrancho in Kumasi on Saturday when a speeding truck trapped and killed a female senior high school (SHS) leaver.
The deceased, identified simply as Rose, 20 years old, was in a container shop with others when the truck veered from the road and crashed the metal container.
Sadly, Rose was said to have been hit by the cargo truck, killing her instantly, Augustine Apau of Kessben Fm, who was an eyewitness, reported.
He said three other people also sustained serious injuries and were transported immediately to the hospital for medication.
Apau disclosed to this paper that the owner of the truck had asked the driver to take the vehicle, which was faulty, to a mechanic shop at Afrancho for repairs.
The fault was said to have been rectified and as the driver was reportedly speeding, he apparently lost control of the steering wheel, so the vehicle veered off the road to the shoulder of the road in a dangerous manner.
The truck then hit three metal containers by the roadside, resulting in the untimely death of Rose.
Apau noted that the driver of the truck after the crash, vanished into thin air and the police are hotly pursuing him.
By I.F. Joe Awuah Jnr., Kumasi