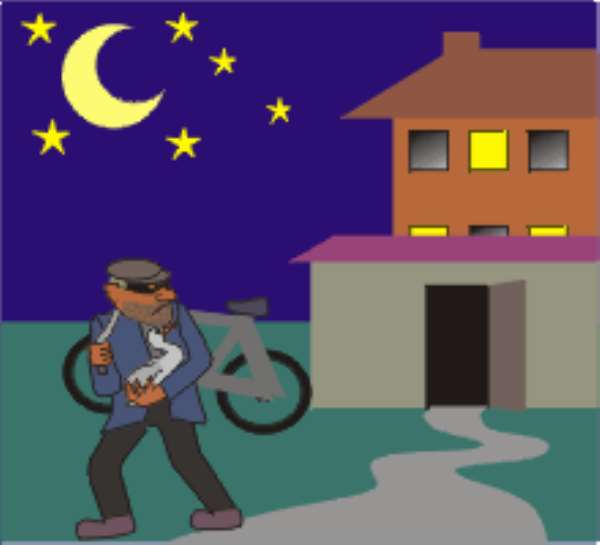 Accra, Oct. 4, GNA- Ghanaian deportees from Libya in 2000, who lost various sums of money through burglary at the Ghana Embassy in Tripoli, have been dared to come out with information that could lead to the arrest of the perpetrators.
Alhaji Basit Abdulai Fuseini, former Ambassador to Libya, who made the request through the Ghana News Agency in Accra, was reacting to a news item that implicated officials of the Embassy in the robbery, that led to the lost of over 100,000 dollars. " The robbery still remain a mystery, hence the need for the deportees to cooperate with the police to help apprehend the thieves." Alhaji Fuseini said the Benin and Mali embassies were also robbed that year, leading to the murder of a security man at the Malian Mission.
Alhaji Fuseini said the police arrested the security man at the Ghana Embassy, for questioning since he was not at post when the robbery took place. He said until the incident, he was not aware that the deportees were depositing money at the Embassy since Ghana's Foreign Ministry, had not approved of such a practice.
"Majority of the deportees were illegal immigrants and anytime they were arrested by Libyan security officials, various sums of money found on them were confiscated. " I was later told that the Consular Section of the Embassy decided to keep the money for them, without official records covering the transactions."
Alhaji Fuseini said an official from the Foreign Ministry was dispatched to Libya to investigate the theft and subsequently the Consular was recalled. " I recommended to the Ministry that a team of police investigators be sent from Ghana to assist their Libyan counterparts to apprehend the culprits. " I also wrote confidential reports, suggestions and recommendations on the issue, " he explained. Alhaji Fuseini said he did not receive any feedback for all the correspondents he made on the matter.