Aburi Girls holds farewell service for Dr Asibey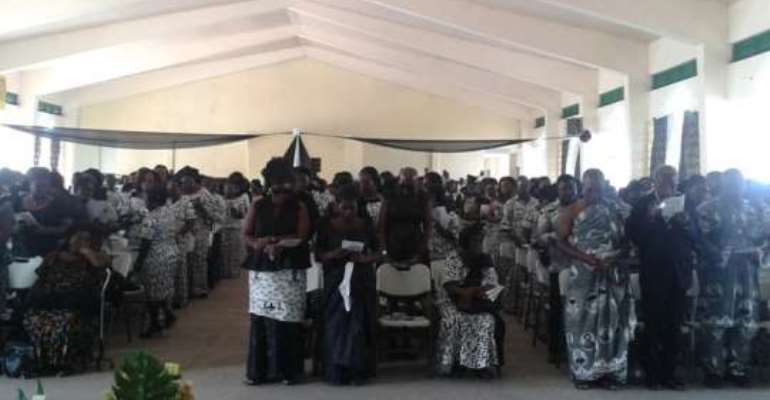 Aburi (E/R), Aug. 31, GNA - The staff and Management of the Aburi Girls' Senior High School at the weekend held a farewell service for the late Dr Mrs Joyce Lucy Asibey, the first Ghanaian Headmistress of the school.
Dr Asibey, who was Headmistress from 1971 to 1988, died on Tuesday July 4.
The service was attended by several dignitaries, including Dr GodFred Osei Bonsu Twum, Municipal Chief Executive, Akuapem South, Professor Francis Kofi Ampenyin Allotey, a mathematical physicist, Queen Mother of Aburi, Mamfehene, Representatives from the Akuapem Traditional Council, former officials as well as former headmistresses of Aburi Girls', Officials of Aburi Girls' and family members.
Others were the Old Aburi Girls Students Association, members of Conference of Assistant Heads of Senior High Schools, and loved ones.
Tributes read by family members, friends and colleagues, described the late Dr Asibey as a disciplinarian, woman of all parts, mother, friend, sister, mentor, great legend, role model, shining evidence, an ardent supporter and an incomparable star whose life changed the lives of many.
Eulogising Dr Asibey, Mrs Rosemond Bampo, Headmistress of Aburi Girls' Senior High School, described her as a patriot who contributed to the country's progress by initiating a number of programmes not only for students of Aburi Girls' but the country at large and students who passed through her hands in their academic lives.
She said Dr Asibey had paid her dues to the nation by doing her national service in helping to position the country, Aburi Girls', family, community and other associations she belonged to on a high pedestal.
'Ghana has lost a great daughter who uplifted the image of Aburi Girls' and advanced the educational circles of students as the first Ghanaian Headmistress of our school,' she said.
Reverend George Opare Kwapong, Chairperson of the Akuapem Presbytery of the Presbyterian Church of Ghana, said between the birth and death time of Dr Asibey, she served her maker and generation not in her interest but for one that was pleasing to all.
Rev Kwapong said: 'Majority are however very grateful to her for shaping their lives academically, spiritually and socially.
'Swarm of old girls, parents, friends and sympathisers gathered here today bears testimony to this positive influence,' he said.
Rev Kwapong however urged the family, country, loved ones and other mourners to see the death of Dr Asibey as a commemoration of a life fully lived and has now been called by her maker gloriously.
Mrs Cynthia Bediako, President, Aburi Girls' Old Students Association, in her tribute described Dr Asibey in five phase as a woman who was full of life, a strong academia, a leader with vision and finally a woman who believed in community service.
'Dr Asibey's believe in community service reflected when she introduced us to community work by allowing weekly visits to Gyankama down the hill on Wednesdays to nurse wounds and support the children with milk and supplement,' she noted.
Mrs Bediako added that she was a great daughter of the country whose whole working life and career was spent to make her students whole in every aspect of their lives.
'Dr Asibey has turned us into complete, creative all-round ideal women of substance who are able to manage whatever our lots are,' she said
Dr Aseibey died at age 84; she is survived with two children.
GNA