Court orders release of Mahama's gunman from prison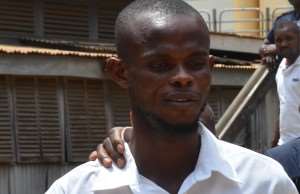 A Human Rights court in Accra has ordered for the release of Charles Antwi, the man who went to President Mahama's church with the intention killing him.
According to the presiding judge, J.A Okwabi, his ruling is based on documents presented to him which clearly shows that the circuit court judge, Francis Obiri, erred in the first ruling which sentenced Mr Antwi to 10 years imprisonment.
Antwi's fast-track conviction according to the office of the Attorney General (AG), was a surprise to them, because on the day of his conviction, they had sent him to court to be only remanded in lawful custody for further investigations.
This was revealed by the Director of Public Prosecution at the AG's office, Yvonne Atakora Oboubisa, about a week ago, when a public interest lawyer Francis Xavier Sosu filed a writ challenging the ruling.
Some of those who argued against earlier ruling also said it was clear Mr Antwi was mentally ill and needed treatment, and that the judge should have considered that in his ruling.
The court has ordered that Charles Antwi should be sent to the psychiatric hospital.
How it all started Charles Antwi was arrested with a loaded gun at the Ringway Assemblies of God church, where President Mahama worships with his family.
He later confessed in open court that he had planned on assassinating the President and that that day was his third attempt.
Source: Citifmonline.com