SIC Advices DVLA Drivers On Fake Licence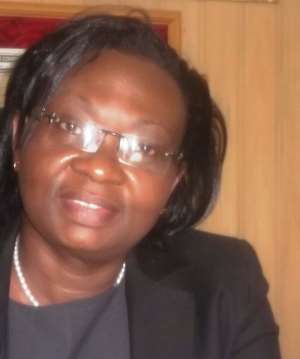 The Kumasi area manager of SIC Mrs. Dzifa Kwawukume has advised authorities at the Drivers and Vehicle License Authority (DVLA) to implement effective mechanism to avoid the issuing of fake license at the license offices in the country .
She also charged drivers to verify their license at the appropriate license offices to ensure the validity of their license before driving.
"Some drivers are intentionally driving with fake license whiles many others possess fake ones without knowing". She observed.
She said the process will help ensure smooth process of insurance documentation for claims by clients who are under various motor insurance schemes in the company without any difficult confrontation.
"Most people often present fake documents to secure their insurance claims without knowing they are holding invalid licenses that normally delay their process to claim their money". She noted.
Mrs. Dzifa gave these advices when speaking in an interview with the media in Kumasi towards the company's mechanism to ensure effective delivery of services to it noble clients.
According to her, Sic customizes its products for every client the right products for the right person at the right time. The arrays of insurance products packaged and tailored to the varying needs of the public include Motor, Fire, Marine, Property and Pecuniary insurance. Others are Aviation, Engineering, Casualties, Liability and Bonds insurance.
She noted that, "a person who uses or permits another to use a motor vehicle on the road should have a motor insurance policy", which include Act Only cover, third party fire and theft, third party cover, and comprehensive.
Mrs. Dzifa urged individuals to partner SIC to engage it policies especially the accident, casualties and the property insurance, since, it will cushion their future life for comfort.
SIC insurance company limited, the nation's preferred largest non-life insurance company in line with its objective to settle legitimate claims promptly, aims to remain it position as best in insurance and other financial services, as it paid over gh¢32.5 million in claims in the year 2014, which represents a fifty-eight per cent (58%) increase compared with the 2013 figure of GH¢20.5million.
She reiterated the company is returning substantial parts of premium mobilized to its customers who suffer one form of lose or another. "Sic insurance remains optimistic in securing its position as the leader in the insurance industry. Despite the challenges that have confronted the company in recent times, sic insurance remains resilient and is poised to offer quality services to its clients nationwide". She emphasizes.
The company is very focused on delivering on its core mandate and is innovatively looking at new ways of increasing efficiency to improve operations and deliver on its promises to its clients and potential clients alike.
Mrs. Kwawukume stressed that, SIC has instituted new insurance policies to add up to the numerous to benefit their customers.