Politics Has Stolen Our Sense Of Reasoning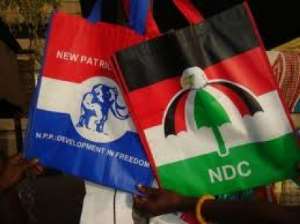 The political mannerism of this country clearly, is responsible for the disregard of common sense!
The display of infantile tantrums by some quarters are disheartening and sometimes can be described as evil.
To the best our ability, Islamic State In Syria (ISIS) is a bloody-sucking group of monsters with no sympathy and regard for human live irrespective of ones social status.... even innocent children are not spared.
Therefore, i do not understand it, when people we expect to know better, would mount the radio and TV stations and speak real nonsense as though common sense to them is like a recharge card.
I listened to some people on our local radio stations , seriously justifying those three Ghanaians who just joined the monstrous Islamic militant group and attributed it as a result of the bad political leadership in the country.
Some have also tagged that to the economic hardship and the massive corruption in the country "hoping" that those Ghanaians will, after their devilish tactical training, return home like the movie titled "The 3 Musketeers" to kill all our corrupt leaders and restore the economy.
This is a figment of imagination and i condemn it with the contempt it deserves.
My dear reader, one of the believes of the monstrous Islamic State In Syria (ISIS) is to conquer the whole world both the developed and developing countries and enforce the compulsory worship of Islam.
I believe we all saw on our screens and the social media platforms how ISIS kidnapped and slaughtered people who were identified as Philanthropists, journalists, human rights activists , missionaries and many more from even a developed country such as USA, and the rest.
There is absolutely nothing physically, mentally, psychologically good, palatable written or associated with ISIS. They are bloody-sucking group! They are always thirsty for human blood.
They exist to kill, divide and rule irrespective of the social and economic status of a country.
The only hope, we aught to be praying everyday is that these three Ghanaians ushered into ISIS should not even think about Ghana again.
The National Security has made clear on the subject matter and has assured that measures are far advance to keep the country safe from such threats.
My plea goes to those people without clairvoyance and to those crisscrossing the political corridors and the media houses like bats to, as a matter of national concern, stop creating the unnecessary fear and panic in the country.
Long live Ghana!
Abubakari Seidu Ajarfor
Development Journalist
The Punch newspaper Ghana
Mobile No: 0247414780.