GIMPA Tops Law School Entrance Exam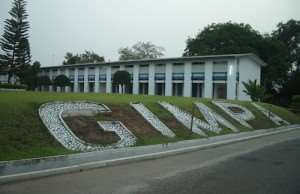 The Ghana Institute of Management and Public Administration (GIMPA) has emerged the top institution for the 2015 Professional Law Entrance Examination in the country.
Seventy-seven out of the 298 students who had been invited for interview at the Ghana School of Law (GSL) were from GIMPA while students from KNUST, Legon, Mountcrest and Overseas were 69, 63, 52 and 37 respectively.
A statement issued in Accra yesterday, while congratulating two students from Legon and GIMPA who scored 90 for the examination, said the breakdown did not tell much because the number of students who wrote the examination from each school was unknown.
According to the statement, nothing could be learnt from the breakdown because it was a truncated distribution with missing scores of 577 students who registered, paid for and took the examination.
It explained that for unknown reasons, those students were not allowed to see their scores and had been given no reason as to why they were ineligible to attend the professional law school – except that their score falls below 66.
'We appeal to the General Legal Council (GLC) and the Ghana School of Law (GSL) to take immediate steps to release the scores of the 577 students. More importantly, we ask the GLC to create avenues for these students to pursue the professional course, either through GLC approved virtual classes or private classes.'
It further added that all that the 577 students and those who would be excluded by the farcical interviews, were asking for is an option to take the Qualifying Certificate Examination (QCE) at the end of one year.
The release of the results comes a few days after Prof Stephen Kwaku Asare, a law professor, had asked the GSL to provide candidates who write the school's entrance examination with their actual scores.
He had argued that only 298 (34%) of the 875 students who took the 2015 School of Law Entrance Exam knew their scores.
Prof Asare argued that it is important to understand that the 577 students had not failed the entrance examination, adding that 'The GLC, through the GSL, does not define what a passing score is. Rather, it posts scores of only students who are admitted to pursue the QCL at the 3 GSL campuses.'
He explained that the possession of the certificate entitles the holder to practise law in Ghana – the reason why most people enroll in expensive LLB programs.
Prof Asare noted that getting the score was not just a matter of right, but also has feedback value for a student who got 65 to adopt completely different strategies from a student who got 28, if they opt to retake the examination.
The scores, the law professor said, would also shed light on how close the excluded students are to the cutoff point.