'We're Not Stingy'....MTN Gives Lots Of Value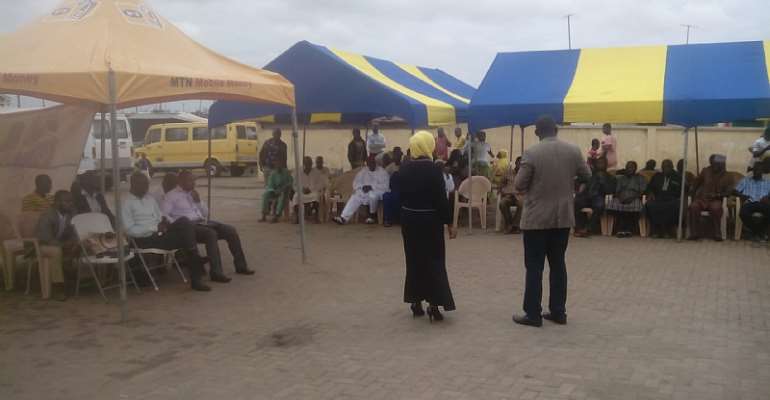 Abubakar Mohammed, General Manager, Distributive Trade, MTN has allayed public comments that describes the Mobile Telecommunication Network [MTN] as a "stingy" mobile service provider.
This reporter has over sometime now keenly followed comments from the public domain which directly or indirectly describes MTN as a "stingy" mobile service operator when it comes to giving value to customers.
Quiet apart from that, mostly some of these general public perceptions are posited by the average Ghanaian that MTN is the most expensive mobile service provider among the pack but excellent in terms of quality delivery of mobile services.
Abubakar Mohammed and other staff from MTN mounted a stage at the MTN Fadama Community Forum to demystify the widely speculated public perception as well as interact with the people mostly MTN subscribers.
"MTN gives you freebies and is a good corporate citizen. MTN is a very credible organization that will do all that it takes to give our customers quality service and we do that with the highest ethical standards"
In an interview, he stated that, "MTN we are not stingy at all, as you see in our monthly filling promotions, we are giving out houses, cars, generators, phones and others. Am not sure any stingy organisation will do all that."
He added that MTN is giving back to communities in many ways through events like the MTN Hit Maker, MTN soccer academy, MTN Heroes of Change as well as the MTN Ghana Foundation.
According to him, It is not expensive using MTN because it is affordable and cheaper with the fastest 3.75G network.
Bonus and get 100 percent bonus credit, EVD unit transfer you get 100-percent bonus, 30percent bonus on Mobile Money top-up, so I don't see any reason that we are stingy. It is the only network that is providing the best of care and it is the network that is ensuring that the life of customer is a whole lot.
Abubakar Mohammed indicated that the forum seeks to bring MTN services and other developments closer to its customers.
"And so when we meet on such platforms we educate them on our products and services. Promotions we are running and also create the opportunity for them to ask questions," he noted.
He added that, "Most of them do not know about our services or they don't even use it so this platform will create the opportunity to educate them in order for them to appreciate some of our services."