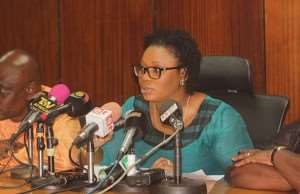 The youth of Krobo in the Eastern Region are dissatisfied with the decision by the Electoral Commission (EC) to conduct district assembly election at Akuse-Natriku under the Shai Osudoku Constituency of the Greater Accra Region instead of Lower Manya Krobo.
They have therefore called on the EC suspend the election in order to promote peace in the area.
According to them, they are surprised that Akuse Natriku, a core part of Lower Manya Krobo Municipality, which is also surrounded by other electoral areas in the Lower Manya  Krobo Municipality in the Eastern Region, is being considered as part of the Dangme West District of the Greater Accra Region.
'EC's action not only amounts to a change of boundaries between the Eastern and Greater Accra Regions, which contravenes the provisions in Article 5 of the 1992 constitution, but it shows gross disregard for the authority of the highest court of the land, the Supreme Court, which declared that the electoral area in question and indeed the whole of Akuse was part of the Eastern Region, Lower Manya Krobo specifically,' they stated.
Spokesperson for Kloma Gbi, Hilary Saki Kodji, who addressed a press conference, hinted that 'it is surprising that upon all these appeals and agitation over the illegal change of regional boundaries not even the EC or Local Government Ministry is pausing for once to listen to our grievances.
Explaining further, he said 'when public institutions like these act with impunity, they only turn to encourage aggression particularly when other institutions and persons, who should act as check on them also look on indifferently. It is sad to watch the laws of the land applied selectively.'
 Background
Akuse-Natriku, one of the electoral areas was omitted in the local level election which was held in the Lower Manya Krobo Municipality in December 2013.
The election was suspended for three years following a dispute over whether Akuse and its surrounding communities belong to the Lower Manya Krobo Municipality in the Eastern Region or Shai Osudoku District, formerly Dangme West of the Greater Accra Region.
The Legislative Instrument (LI), which sought to align the affected electoral areas from Lower Manya to Shai Osudoku, was however declared procedurally flawed by a nine member panel of the Supreme Court on June 13, 2012.
Natriku was however omitted and all efforts to get the EC to explain its action have yielded no result.
The Election Commission (EC) is set to conduct the election in the area under the Shai-Osudoku District which the people of Manya Krobo have vehemently opposed.
By Daniel Bampoe