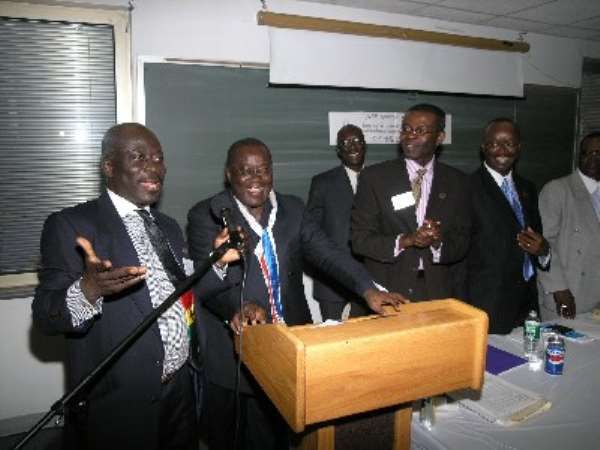 The largest group of NPP delegates from all over the United States met on Saturday September 25, 2004 in New York City for the annual NPP North America Congress.
The enthusiastic Party officials in the US were further sent into jubilation by the keynote speaker, Hon. Nana Akuffo Addo, Minister of Foreign Affairs with his recitation of NPP's accomplishments punctuated by wild applauses and shouts of "So far, So very good". The Minister, who brought greetings from President Kufuor and Vice President Aliu Mahama, was definite in his claim that Ghanaians are far better off in four years than in the past twenty.
Brandishing a copy of NPP's Manifesto for the 2004 election, he cited the macroeconomic gains of the economy that have seen a decline in inflation and borrowing rates and a stabilization of the cedi. Roads are being built, school infrastructure are being repaired and restored and seventy-five percent of the world cocoa price is being passed on the farmer- the highest return in Ghana's history, the Minister added.
Amid exuberant shouts of the Party's slogan: "Kukrudu—Ewoso; Kukrudu- Ewoso, woso; Kukrudu- Ewoso Gidigidi" the delegates passed a unanimous resolution to "support the reelection of President John Agyekum Kufuor to a second term of office as President of the Republic of Ghana and also to support all the NPP parliamentary candidates"
The delegates resolved to dispatch their members from the US and Canada to all regions in Ghana to ensure a resounding victory for NPP in the December 7, 2004 elections. All the delegates gave much credit to the NPP executives from New York for organizing a very substantive and successful congress. Mr. Kofi Boateng was masterful as the event's moderator and managed to dissipate tensions and acrimony and ensure a cooperative spirit. The theme of the Congress was: Ensuring the rights of Ghanaians abroad in Ghana's socio-economic affairs. To this, Jermaine Nkrumah from Houston made a convincing presentation of the processes of ensuring the voting franchise to all Ghanaians abroad in 2008. Mr. Amo-Asante reminded the delegates to continue to challenge the elected officials to be vigilant and deliver on their promises.
As if these were not enough, the delegates heard from their members who contested in the primaries in Ghana as NPP parliamentary candidates; Messrs Hackman (Gomoa), Amoako (Abuakwa) and Manu (Nsuta) shared their not-so complimentary experiences with the primary process with their colleagues. The day reached a climax when the NPP North America Chair, Mr. Mohammed Idris and the New York Chairman, Nana Amo Adjepong; led the group to produce a live commercial to support the NPP that the delegates plan to play on Ghana's television.