Asanteman Conference Shifts From New York To Columbus, Ohio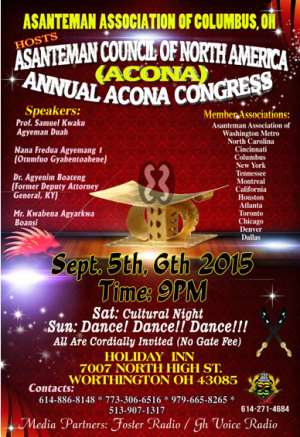 Asanteman Council of North America (ACONA) takes this year's Annual Congress to Columbus, Ohio. The Congress was to be hosted in New York but had to be shifted to Columbus as New York failed to meet the conditions and protocols set forth by ACONA for member-associations in hosting events of this kind.
The Congress is scheduled to take place on Saturday and Sunday, September 5th and 6th, 2015, respectively. The venue is the Holiday Inn, 7007 North High Street, Worthington, OH 43085, from 9:00 PM to 3:00 AM.
ACONA is the umbrella organization of all the Asanteman Associations in the United States of America and Canada. Among other things, ACONA seeks to preserve the Asante culture and promote unity among Asantes in North America. It also supports the Asanteman developmental efforts in the North America and Ghana.
Speaking to this reporter via telephone, the ACONA President, Nana Adu Opoku (Asantefuohene of Cincinnati) urged all members to attend to help draw the strategic five-year development plan for Ghana. He was optimistic that all and sundry will attend this free dinner and dance event. "It will be a weekend of cultural excellence and extravaganza," he said.
Prof. Agyeman Duah, the ACONA Executive Secretary, and his deputy, Mr. Kwabena Agyarkwa Boansi added their voices to calling member-Associations to the Congress.