2015: The year migrants streamed into Europe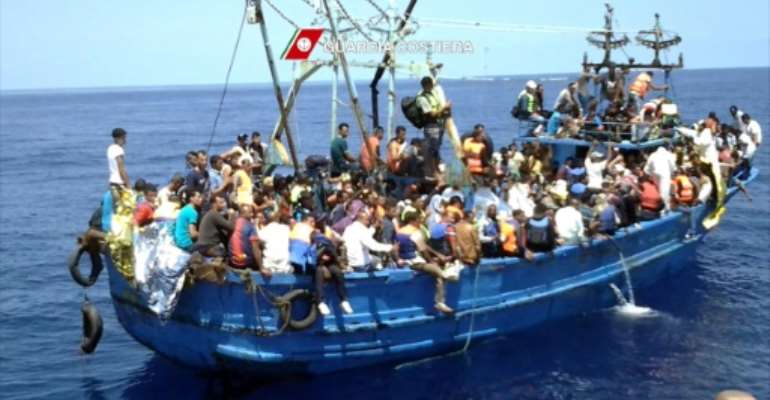 Paris (AFP) - Europe is struggling with its biggest migration crisis since World War II, and the situation has got much worse since January.
Around 340,000 migrants have reached the borders of the European Union in the seven months to July, three times more than in the same period a year earlier, according to Frontex, the EU border management agency.
In 2014, a total of 283,000 people sought to emigrate to Europe, three times the figure in 2013.
Xenophobic reactions have erupted against economic migrants seeking better-paying jobs and a larger number of refugees fleeing conflicts in Africa and the Middle East.
The trip is already a dangerous one. More than 2,400 people have died trying to cross the Mediterranean since January, and 3,279 deaths were recorded last year.
Here are key dates in the migrant crisis since January:
- March 13: Frontex says the number of illegal migrants in January and February jumped by 250 percent on an annualised basis.
- April 23: After 1,200 people die in one week after leaving Libya, EU leaders approve a plan similar to the defunct Mare Nostrum operation in late 2013 that followed a maritime disaster near the Italian island of Lampedusa that left 366 people dead. EU leaders triple the budget for rescues to nine million euros ($10 million) per month, and mull military action against traffickers based in Libya, but a naval task force launched on June 22 is limited to heightened surveillance owing to a failure to gain UN approval.
- May 15: Austria opens its first refugee tent camp similar to those that already exist in Germany.
- June 3: The number of arrivals in Greece since January explodes by 550 percent, Frontex says, largely due to an increasing number of Syrians.
In Italy, three northern regions, Liguria, Lombardy, and Veneto, warn they might refuse to house new arrivals.
- June 11: France, where a migrant camp in Paris has been evacuated, refuses entry to hundreds of people gathered at the Italian border, raising Rome's ire.
- June 17: Hungary closes its border with Serbia, which is not an EU member, and plans to build a wall four metres (yards) high, with work starting on July 13. The government in Budapest briefly suspends an EU directive on granting asylum.
- June 26: EU leaders in bitter disagreement over mooted migrant quotas for each member state, make admission criteria harder, create triage centres and speed up the process for expelling migrants who do not obtain refugee status.
They also agree to lift some of the load from Greece and Italy, where 40,000 migrants have sought asylum, and in a finalised agreement volunteer to accept 32,256.
- July 30: A migrant dies in Calais, France, where 3,000 seek a chance to reach Britain, after trying to gain access to the Channel Tunnel. He is the 10th, at least, to die in two months. Britain and France overcome differences on the issue and agree to jointly strengthen defensive measures and counter traffickers.
- August 10: The European Commission approves 2.4 billion euros in fresh aid for 19 countries, mainly Greece and Italy.
- August 16: German Chancellor Angela Merkel warns that waves of refugees would "preoccupy Europe much, much more than the issue of Greece and the stability of the euro."
- August 18: Frontex reports that the number of migrants in July has tripled from the same month a year earlier, to 107,000. That marks the first time the number has topped 100,000 in a single month. Greece surpasses Italy in terms of the main point of entry, with the situation especially tense on islands in the Aegean Sea.
- August 19: Germany, the leading destination for those seeking asylum in the EU, says it now expects the number to reach 800,000 in 2015, four times as many as last year.
- August 20: Macedonia declares a two-day state of emergency and closes its borders with Greece, pushing back migrants before 7,000 of them manage to enter and move northwards towards Hungary, where the border with Serbia is still open for the time being. The Hungarian wall is expected to be finished by August 31. Meanwhile, Slovakia says it will only accept Syrian refugees if they are Christian.
- August 24: The wave of migrants crossing Macedonia and Serbia begins to arrive in Hungary. France, backed by Germany, calls for "a unified system for the right to asylum" and a common migratory policy for the entire 28-member EU.
- August 25: Hungarian security forces fire teargas to prevent around 200 migrants trying to leave the EU country's main refugee processing centre at Roeszke near the Serbian border. More than 2,000 police to be sent to border.