Ferro Fabrik Workers Lay Down Tools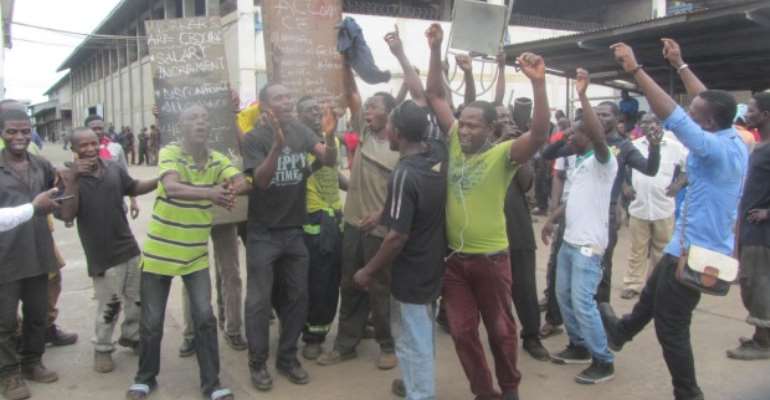 Some of the workers expressing their displeasure
Workers of Ferro Fabrik Ghana Limited, a steel factory in the Industrial Area, on Tuesday embarked on a strike action to protest against unfair treatment by management.
According to them, each worker receives a daily wage of GH¢9.
Speaking to BUSINES GUIDE, the workers explained that their employers were supposed to pay them an amount of GH¢20 daily, including certain allowances, but management had refused to heed their demands, hence their decision to demonstrate.
According to the workers, they would not return to work if management does not offer them hospital allowance, heat and discomfort allowance, leave bonus, workers uniform, medical bills and safety allowances.
The workers noted that management had failed to increase their wages, essential bonuses, risk allowance for the past three years after the company was bought from Chinese owners.
Eliezar Nyaunu, Tema Regional Officer of the Industrial Commercial Workers Union (ICU), speaking to BUSINESS GUIDE at the factory's premises, mentioned that the workers were demanding an increment in salary and allowance.
He said that his outfit would be meeting management of the company to restore the conditions of service which were withdrawn by management.
'Management sometime back deceived the workers with money as part of their collective bargaining agreement. The workers have regretted their decision and are now demanding that their collective agreement should be restored since they are fed up with management's treatment,' he stated.
The regional officer of ICU also pointed out that management of the company had agreed to negotiate with the union for an increment in their existing salary before they would absorb other allowances due the workers.
As at the time of leaving the location, management and ICU were in a meeting to find a lasting solution to the problem.
From Vincent Kubi, Tema