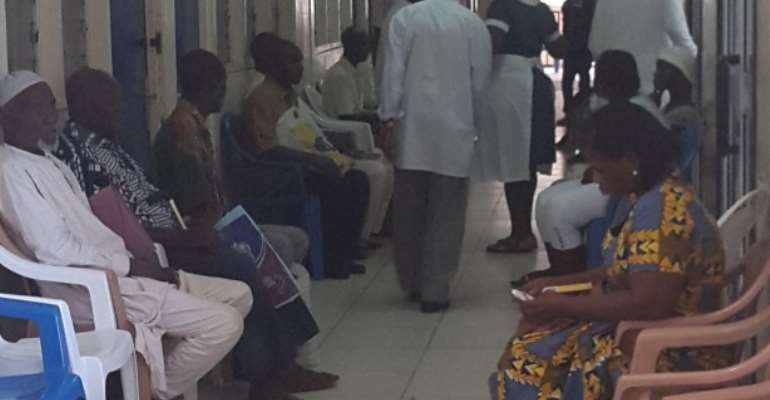 DOCTORS OF the Ghana Medical Association (GMA) who for the past three weeks withdrew their services from the out-patients and emergency departments of public hospitals have resumed work after calling off their strike last Friday.
The doctors who reported to work Monday morning were greeted with large number of patients at the various OPDs, anxiously waiting to be attended to by a doctor.
The Korle Bu Teaching Hospital (KBTH) had all its OPD filled with patients as at the time DAILY GUIDE visited the facility yesterday.
Seats at the surgical, medical and central OPDs of the hospital were all filled with patients and their relatives who had come to seek medical attention after weeks of waiting for the doctors to call off their strike.
A patient who spoke with DAILY GUIDE at the medical OPD which was running four clinics on Monday said she was glad the doctors were finally back at work.
'Now I can have the care I have been waiting for,' the sick but excited Veronica Nyarko said.
Nurse Afua Akwah and Ivy Akorly who were manning the medical OPD said they were having a normal clinic.
'It is because the doctors went on strike and they are back so the patients are now coming,' Afua said.
'The renal clinic today has seen more than 30 people already,' Lvy added.
The surgical OPD had at the time of the visit attended to over 170 patients, with many more waiting to be attended to by a doctor.
The maternity and child health OPD were no different from the other OPDs of the KBTH.
The Ridge Regional Hospital OPD was also busy with patients; its maternity ward and child health were all busy with patients going up and down the hall ways.
The La General Hospital was also very busy with doctors busily going about their duty. Although management of the hospital declined to speak, some patients were equally happy to see the doctors back at post as they waited patiently for their turn.
Deputy General Secretary of the GMA, Dr Justice Yankson on a local radio said, 'A lot of them (doctors) are going back with reservations and heavy heart.'
'What people should understand is that when people who everyone wants to slave for this country are not happy, sometimes output might not be the best and that is a fact,' he added.
Dr Yankson, however, said the fight for their conditions of service is not yet over.
'We are very much aware of the past and we know how government has treated some of these things, especially when there is no pressure, but we will still continue to corporate with government and monitor to see how committed the employer is.
'Until we have that document signed, it is not over because we are very resolute on this issue and it is now or never, this struggle has just begun,' he added.
By Jamila Akweley Okertchiri