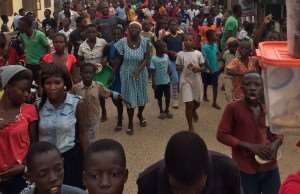 The jubilating community
Hundreds of residents of Ekuase, a fishing community near Sekondi in the Western Region were in jubilant mood last Tuesday.
This was after the Sekondi Traditional Council declared the position of one Nana Bompeh, the supposed chief of the Community as null and void.
Nana Bompeh, popularly known in the area as Aziz, is a member of the Akona Paado Family at Ekuase.
He was installed as chief after brief rites were privately performed by his faction some weeks ago after the demise of the substantive chief, Nana Ekuase VI, who is yet to be buried.
The declaration of Aziz as chief of Ekuase stiff was vehemently opposed by the family of the deceased chief.
The deceased's family was overwhelmingly supported by the indigenes who claimed Nana Bompeh was a stranger.
The case was forwarded to the Sekondi Traditional Council which heard it on Tuesday, August 19, 2015.
In its ruling, the traditional council said that Nana Bompeh cannot be enstooled as the chief of the community.
He was therefore ordered to stop holding himself as the chief with immediate effect.
The indigenes, who thronged the premises of the Traditional Council, poured onto the streets immediately after the ruling.
They sang some provocative songs and danced through the principal streets of Sekondi to Ekuase.
From Emmanuel Opoku, Takoradi