Hannah Tetteh In Hot Waters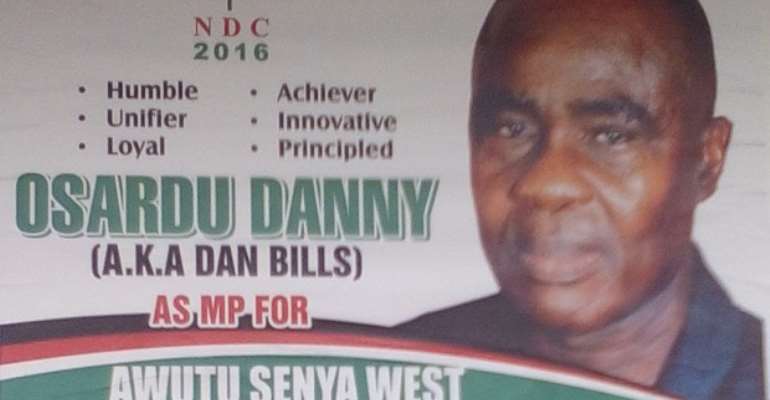 Posters of Capt (rtd) Daniel Osardu
The Member of Parliament (MP) for Awutu Senya West Constituency of the Central Region and Minister for Foreign Affairs and Regional Integration, Hannah Tetteh, is in trouble.
Some supporters of the National Democratic Congress (NDC) - the party on which ticket she is the MP – have threatened to retire her from active politics if she dares contest in the upcoming parliamentary primaries in the area.
According to them, the MP has not done anything for the area since she was given the mandate hence, the need to reject her in order not to pave way for the opposition New Patriotic Party (NPP) to snatch the seat in the 2016 general elections.
A group calling itself Concerned NDC Youth gave the warning at a press conference on Monday.
Addressing the confab, a leading member of the party in the region, Mr. Yaw Ayikpeh, hinted that Madam Hannah Tetteh had lost touch with the constituents and only comes there during funerals which are closer to her family.
Mr Ayikpeh said the party had become dormant in the area and so the youth would not sit down for her to destroy it (party) in the constituency.
He expressed disgust about the way the MP openly told members of the party to send her text messages if they had any information or discussions with her, because she was so busy that she could not respond to their calls.
'We want to tell the party hierarchy that if they impose Hannah Tetteh on us, we will leave the party and campaign massively for the opposition parties; so the non-performing MP should not even dream of contesting the primaries,' he warned.
The group pledged its support for the former constituency chairman, Capt (rtd) Daniel Osardu, who has also expressed interest to contest the primaries.
'He has served the party in so many ways and deserves to become the parliamentary candidate for 2016 to retain the seat for the NDC,' Mr Ayikpeh asserted.
Spokesperson for the group, Kwame Tetteh, noted that the retired army officer had been the pillar of the party all these years, adding that Capt Osardu had been an assembly member, presiding member, DCE and constituency chairman and so has a lot of experience to lead the party to victory in the constituency.
Mr Kwame Tetteh stated, "We have filed his posters to pick a form on august 27 when nomination opens.'
By Sarah Afful, Awutu Bawjiase
Email:[email protected]