Alarm Blows; Ghanainas Join ISIS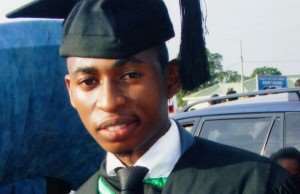 Nazir Nortei Alema
Nazir Nortei Alema, a 25-year-old graduate of the Kwame Nkrumah University of Science and Technology (KNUST) has thrown his family into a health-threatening stress, as he joins the swelling ranks of the Islamic State in Iraq and Syria (ISIS), a terrorist organisation.
With a degree in Geography and Rural Development, he is one of the 10 suspected Muslim youth from Ghana who have finally taken the decision to join the terrorist grouping, whose stock-in-trade is public beheading of their opponents or those they regard as infidels, attracting a worldwide opprobrium.
Their decision has activated the alarm bells over a subtle recruitment drive for vulnerable Muslim youth in especially public tertiary institutions in the country.
Nazir's fateful trip to the training grounds of the so-called Islamic State, as they are derogatively referred to, started on 2nd August 2015, soon after his completion of the mandatory National Service in Ghana, which he undertook at the Statistical Service.
Narrating the story of his son to DAILY GUIDE, Abdul Latif Alema said the young man had earlier sent a whatsapp message to the family indicating that he was on his way to Prestea from where he would proceed to Takoradi on an official assignment.
His brother, Kabiru Alema, who accompanied his father to the DAILY GUIDE offices yesterday, said a subsequent message negated the earlier one.
'He said that he had lied to us when he said he was on his way to Prestea and Takoradi but that the truth is that he was on his way to join the ISIS,' he said.
Extracts from Nazir's whatsapp message, received by Kabir read as follows: 'Pray for me, for I will never forget you in my prayer and it's my hope and prayer that we meet again if not in this world then in Jannah (paradise). I love you all. May Allah grant us understanding and guide us all to the straight path. Asalaamu alaikum.
'I told you a lie to please my Allah. The deception was to go do some research work in far away Prestea while the main idea was to move far away from you all to the Islamic State (IS). I know it might sound kind of crazy for you but your son really had to take this bold step to get out of the corrupt system of Ghana which has democracy first on its list. You can follow this link to know about the 'shirk' called democracy islamqa.info/en/98134'.
As to why the family is convinced that Nazir has joined the ranks of ISIS, Kabir said 'we are convinced because a couple of his friends have also gone missing. We went to their individual houses and discovered that there is no information about their whereabouts.'
Kabir mentioned the name of a certain Abubakar Mohammed aka Brother, a first-class product of the KNUST from a popular family in Cowlane, a suburb of Accra near the General Post Office, who is one those suspected to have also joined the ISIS.
Continuing, Kabiru said, 'The youth who have fallen prey to the ISIS craze belong to the same whatsapp group on which they share extreme ideas about Islam.'
The 'Sadaqa Train', which is the name of the whatsapp group, has been deactivated after the father of one of the members posed probing questions to the leader.
Abdul Latif Alema said that not all members of the whatsapp group however subscribed to the extreme ideas shared by their colleagues when the group was active.
He went on to explain that worrying videos have been spotted on his son's laptop which give credence to the suspicion that Nazir has been sufficiently brainwashed online.
One of the pictures showed the procedures for tying the turban.
It would be recalled that one of the many Muslim youth from Britain who joined the ranks of the terror organization learnt how to tie the Islamic male headgear long before he set foot in Syria to fight for the terrorists.
One of Nazir's videos showed kid soldiers undergoing training.
Nazir's father said his son showed so much extremist inclinations long before departing to join the ISIS.
A female Muslim student of the University of Ghana, Legon, whose parents run a forex bureau in Accra Central, according to Kabiru, has told Naziru's family that the latter is undergoing training currently, during which he would remain incommunicado.
She assured them however that he would be fine, adding that his decision to join ISIS would save the lives of 70 members of their family.
The lady however warned them not to disclose her identity, as doing so would imperil their lives.
Kabiru told DAILY GUIDE that a certain Badharn Diallo, a Guinean who attended the University of Ghana, Legon and joined the ISIS five months ago, is responsible for the recruitment of these young Ghanaian Muslims.
Abdul Latif Alema said the need to give this dangerous trend the necessary publicity cannot be overemphasized, adding that 'parents should take interest in what their children do with a view to detecting when they are on the verge of falling prey to the machinations of terrorist organizations.'
As to whether he has reported the matter to the relevant authorities, he said, 'I reported it to a top official of the National Security Council and the man assured me that they are working on it at that level.'
The Alema Family hail from Osu, but they have another family house in Tudu opposite the former Central Lorry Park.
By A.R. Gomda