OKutwer Bekoe woos investors to Gomoa Adaa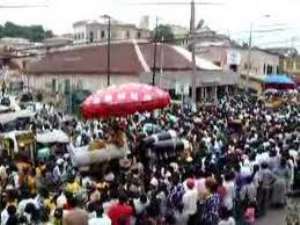 Gomoa Adaa, (C/R), Aug. 24, GNA - The chiefs and people of Gomoa Adaa have signed a Memorandum of understanding (MOU) with some investors from Singapore, for the cultivation on a large scale, of cassava in the area.
Nana Okutwer Bekoe the fourth, Odikro of Gomoa Adaa, who made this known at a durbar to climax their annual Akwambo Festival, said the chiefs had released about 50 hectares of land for the project.
Nana Bekoe, who is also the Apagyahene of the Gomoa Akyempim Traditional Area, said the project was expected to take off before the end of the year.
He said the investors would add value to the cassava for export, and use the rest to feed local industries.
Nana Bekoe expressed satisfaction that the project would create job opportunities for the youth in the area, and help reduce poverty among the people.
He said there were large tracts of land lying fallow in Gomoa Adaa, and needed potential local and foreign investors to come and invest.
The Apagyahene appealed to corporate bodies, telecommunication companies, financial institutions and well-meaning Ghanaians, to contribute towards an Education Endowment Fund he had instituted for it to realize its objectives.
On the deplorable road network linking Kyiren-Nkwanta to Gomoa Adaa and its environs, Nana Bekoe called on the government to fulfill its promise to the people.
Nana Pantsiwa Panyin, Gomoa Akyempim Apagyahemaa expressed concern about the poor girl-child education in Gomoa West,
She expressed regret about the high incidence of teenage pregnancy among school girls in the area.
She said the Akyempim Traditional Council would apply severe sanctions against men who impregnated the girls. GNA