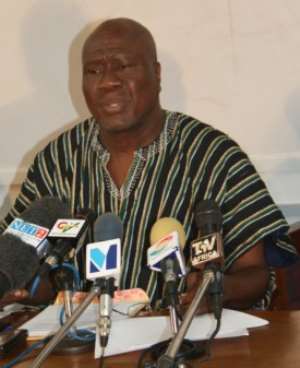 I have a feeling that the National Chairman of the ruling National Democratic Congress (NDC) means well, when Mr. Kofi Portuphy says that the establishment of a new Voters' Register, as being demanded by the leaders of the main opposition New Patriotic Party (NPP), would be too expensive for our national budget to sustain at this time (See "New Voters' Register Would Be Expensive - Portuphy" Citifmonline.com / Ghanaweb.com 8/22/15). What I don't understand from Mr. Portuphy is his argument that the demand for a new Voters' Register is causing great panic among Ghanaian citizenry.
As far as I can see, it is only citizens who have something to hide and also to lose vis-a-vis the establishment of a new Voters' Register who are apt to panic, obviously because the heavily tainted present Voters' Register favors their political race horse or party. And so far, what we have witnessed, at least via gleanings from the media, is that it is preponderantly the leaders of the National Democratic Congress who are crying foul; and for what purpose? It is not quite clear. What is clear, even as Mr. Portuphy himself acknowledges, is the fact that the present Voters' Register is heavily contaminated with the names of a sizeable percentage of foreign nationals.
The former National Coordinator of the National Disaster Management Organization (NADMO), further acknowledges that already some 158,000 illegally registered voters who participated in Election 2012 have had their names recently expunged from the Voters' Register.
Now, this is very disturbing because it represents more than three times the margin of votes that separated the now-President John Dramani Mahama from Nana Addo Dankwa Akufo-Addo, the 2008, 2012 and 2016 Presidential Candidate of the New Patriotic Party. Of course, we need to promptly add that the bloating of the current Voters' Register is blameable on on the leaders of both major parties. They are both known to have cheated during the last voters' registration exercise, as was made evident in the proceedings of the Atuguba-presided Supreme Court panel that adjudicated the Election 2012 Presidential Petition. And so at best what can be, perhaps, reasonably argued is that while, in fact, operatives of both the NDC and NPP cheated during the last voters' registration exercise by excessively padding the same, nevertheless, it well appears that the operatives acting on behalf of the National Democratic Congress were the better and more effective cheaters.
What I whole-heartedly agree with Mr. Portuphy on is the fact that the establishment of a new Voters' Register would not only be needlessly expensive, it may also well turn out to have been an exercise in futility. What is more, the current availability of Biometric Voting Technology (BVT) has made it easier to identify and promptly expunge the names and other vital statistics of illegally registered voters, including those who deliberately doubly registered. And what is even more telling, a team of forensic electoral experts, led by NPP Veep-Candidate Dr. Mahamudu Bawumia, was recently able to use the same technology to uncover the illegal packing of some 76,000 Togolese nationals onto Ghana's Voters' Register.
What this means is that agitators for a new Voters' Register, like Nana Akufo-Addo, have a far better chance of having a desirably, and an acceptably, sanitized Voters' Register going into Election 2016 than merely having an entirely new one established from scratch. Indeed, if the likes of Messrs. Akufo-Addo, Bawumia and Osafo-Maafo want to see the attitude of Ghanaians become more honest and progressive towards our electoral system and culture, then, even as I have stated in several previous columns, what we ought to be really talking about is the establishment and / or crafting of the appropriate punitive/disciplinary measures to take care of those who criminally decide to prejudice the integrity of our voters' roll.
Personally, I would be loathe to waste my time queueing to re-register to vote in Election 2016, merely because somebody who lost the most recent election is not happy with the quality or integrity of the current Voters' Register. Especially, if I am also not going to be fed and paid for standing for hours in the scorching and fever-causing equatorial sun. After all, the current Voters' Register was not composed and presented to Ghanaians by some creatures from outerspace. And it is precisely on this score that I unreservedly agree with Mr. Johnson Asiedu-Nketia that the key operatives of the New Patriotic Party would be more diligent and vigilant, if they were really serious about forming the next government.
Mr. Asiedu-Nketia, popularly known as "General Mosquito," is, of course, the General-Secretary of the National Democratic Congress. Nana Akufo-Addo had better stop smugly and naively talking about the NPP's lacking the sort of "revolutionary" tradition and culture, bloodily forged by Chairman Rawlings and his criminal partners and associates, and get down the trenches and dirty his hands with grime like everybody else.