Ghana Team Visits Nigeria Customs Service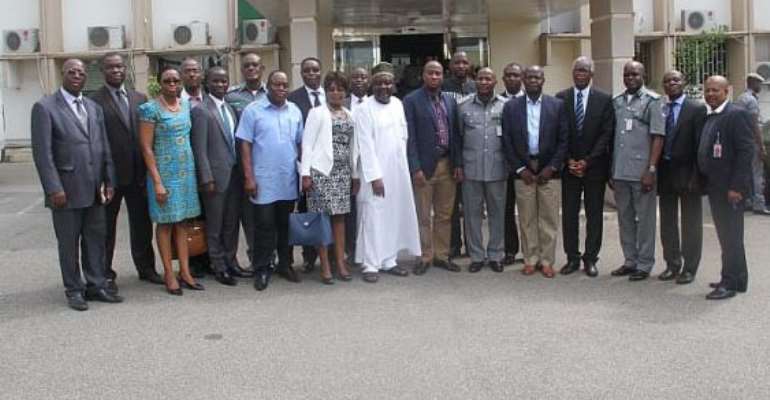 A high-powered team from Ghana, led by the Deputy Minister of Trade and Industry Murtala Mohammed, visited Nigeria Customs Service to understand how the Pre-Arrival Assessment Report (PAAR) and other IT modernization projects currently on-going are making business easy to save the country billions of Naira.
The delegates drawn from the Ministry of Trade and Industry, with some senior officers from Ghana Revenue Authority (GRA) numbering up to 16, had a closed door meeting with the Customs Comptroller-General, Alhaji Inde Dikko
Leading the tour, Bashar Yusuf, Head ICT Unit, Customs, Deputy Controller, took the delegates to the Pre-Arrival Assessment Report ruling centre and explained how PAAR has made the clearance of goods before the arrival of cargoes into Nigeria very easy to save costs and time for the country.
He further mentioned that the system has also enhanced collaboration between Nigeria Customs Service and its various stakeholders in the industry globally.
The Nigeria Customs team informed the Ghanaians that Nigerian traders, especially customs stakeholders in all sectors, now enjoy better trading processes through the modernization drive put in place by the federal government, which in turn has also created more conducive environment for investment opportunities in the country.
The Ghanaian delegates unanimously agreed that Nigeria's Pre-Arrival Assessment Report (PAAR) and the ongoing modernization drive have set the pace for Intra-African trade to ensure that the African economy remains strong, relevant and modernized to meet the needs of the citizens.
They said that the introduction of single window has advanced customs administrations globally.
The Nigeria Customs Service lauded the Ghana Customs Division for thinking innovatively and assuring them of their continuous assistance when they take over from the Destination Inspection Companies (DIC) come September 1, 2015.
Since the arrival of West Blue Consulting, the changes seen in a period of two years has been so significant, the customs officers said.
The Single Window is a one-stop shop for both Ghanaian and international trade actors.
It is a cross-agency web platform that is designed to integrate the various rapidly expanding electronic trade services from Ghana Government agencies.
[email protected]
By Cephas Larbi