SCOA Capital Investments & the BRIDGE Coalition are changing the African American Narrative for Emerging Market Opportunities!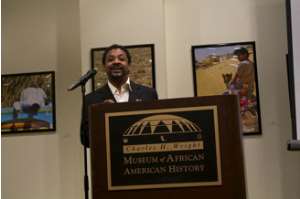 Discovering why the "smiling coast" of Africa is your destination for emerging market opportunities!
Detroit, MI: On Wednesday, August 12, the BRIDGE Coalition & SCOA Capital Investments hosted "Destination, The Gambia 2015", an international conference to address emerging market opportunities between the United States and The Gambia, Africa, at the historical Charles H. Wright Museum of African American History. The event welcomed His Excellency, Honorable Ambassador of the Gambia, Sheikh Omar Faye, and gave him the perfect platform to share the vision of the Gambia's President, His Excellency, Sheikh Professor Alhaji Dr. Yahya Abdul-Azziz Jemus Junkung Jammeh Babili Mansa, on the endless opportunities to build relationships, bridge connections and conduct international business in the Gambia, Africa. The ambassador also brought along with him the Gambia Director of Tourism, International, Ida JengNjie, who gave a compelling presentation on tourism in the Gambia, the upcoming International Roots Festival 2016 & Benefits of Investing in the Gambia. The Gambia Embassies Protocol & Welfare Officer, Pierre Minteh, also accompanied his Excellency the Ambassador.
John Mason, notable Radio Host & #1 Sports Announcer in the country for the Detroit Pistons, emceed the event. Also in attendance were U.S. Congressman John Conyers, Jr. (D-MI), who welcomed everyone to the conference, UAW International Representative, National Ford Department, Michael Joseph, who spoke on the UAWFord's support for the BRIDGE Coalition and their ability to lend their assistance where applicable, and COL. George S. Pettigrew (Ret.), Director of Army Instruction, who focused his presentation on Global Economies.
The conference's overall theme was "Changing the Narrative", rewriting our story, our way. BRIDGE Coalition founder, Jason Dixon, opened the conference with several thought-provoking reminders of how much power we have as an African-American community and as a people. In one of those reminders he suggested "These are very different times, and the time is ripe for change, building better economies and bridging those economical gaps that have existed far too long!" . Another conference attendee, George Mushatt III, who was very instrumental in the initial introduction of Jason Dixon (BRIDGE Coalition founder) and the Honorable Ambassador of the Gambia, Omar Faye, had this to say: "To see brothers and sisters from both sides of the hemisphere August 21 st, 2015
was amazing and inspiring and I definitely look forward to going back to our homeland and connecting spirits with my ancestors and help make history in the Gambia!!". The conference was made possible by the following sponsors: The BRIDGE Coalition, SCOA Capital Investments, The International Roots Festival, Urban Nation Radio & the Charles H. Wright Museum of African American History. The conference was well attended and there was a cross section of the Gambian Community in Detroit present. The event ended with a Q&A, a group photo session and guided tour of the Charles H. Wright Museum of African-American History for the Gambian Representatives and the DAIS panel.