Efforts To Boost Agriculture: Krobo Area Gets Two Irrigation Dams
...Construction Sites Handed Over To Contractor On Thursday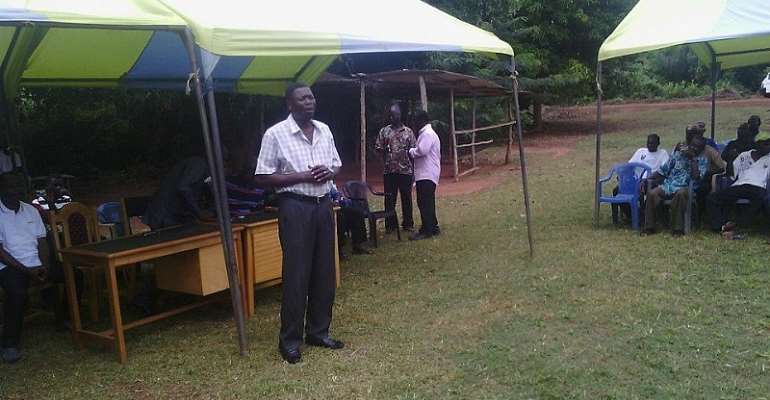 Friday August 21, 2105, Somanya: In an attempt to boost agriculture and increase crop yields in the Krobo area, farmers in Poponya and Kponokle; both rural areas in the Yilo Krobo Municipality , will soon be benefitting from two irrigation facilities to enhance their farming systems.
The sites for the construction of these two irrigation dams were handed over to the contractor at a short ceremony at Poponya on Thursday, and has been tasked to begin work with immediate effect.
The Project which is being funded by the government of Ghana and undertaking by Yilo Krobo Municipal Assembly in conjunction with the Ministry of food and Agriculture will serve the two communities and the satellite villages around them.
The Municipal Chief Executive for Yilo Krobo; Hon. Andrew Tetteh Soda said the aim of the assembly is to alleviate poverty among the farming communities in the Krobo area, and with these irrigation facilities, it will help farmers to improve upon their farming activities as well as help them boost their production.
Kloma Hengme; a Krobo advocacy and Heritage association, hailed the government and the Yilo-Krobo Municipality for the inititative and pledge its support to ensure that the construction of these irrigation dams are completed on time.
The association is further urging the remaining two Municipal and District Chief Executives in the Krobo area- Hon Jacob Acolatse of Lower Manya and Joseph Tetteh Angmor of Upper Manya- to also implement similar initiatives in their respective jurisdictions to boost agricultural activites in the Krobo area.
A leading member of the association; Collins Amartey, said looking at the "Huza" system of land ownership in the Krobo area, the Yilo-Krobo Municipal Assembly must put adequate measures in place to ensure that everyone in these beneficiary villages benefit from the irrigation dams, and not only those whose lands are close to these irrigation facilities or only wealthy farmers or multinational farming organizations as has usually being the case.
Present at the handing over of site ceremony were the Municipal Chief Executive of Yilo-Krobo; Hon Andrews Soda Tetteh, a delegation from the ministry of food and agriculture, representatives of the Chiefs, and the Kloma Hengme Association.