MTN supports celebration of Oguaa Fetu Afahye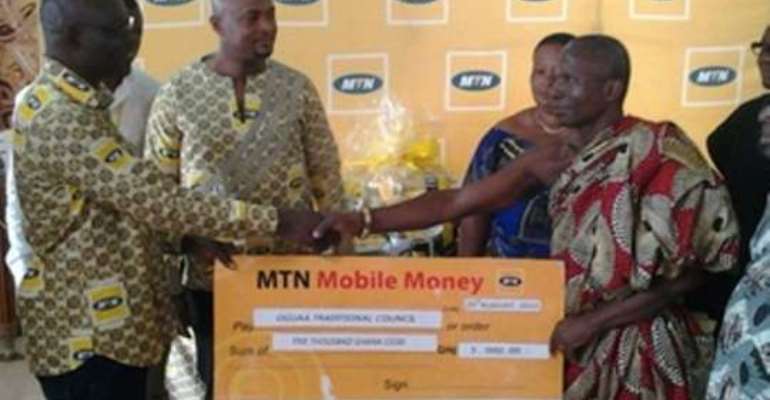 Cape Coast, Aug. 20, GNA - The management of the leading telecommunication network, MTN Ghana, on Thursday presented a cheque of GHȼ5,000.00 to the Oguaa Traditional Council towards the celebration of the Fetu Afahye.
In addition, it donated recharge cards worth GHȼ1,000.00, assorted MTN souvenirs and drinks worth GHȼ500.00 to the Council to support several activities of the event.
This year's celebration, which is on the theme, 'Nurturing the younger generation to take up the mantle of Leadership,' starts on Tuesday September 1, and would be climaxed on Friday September 5.
Mr Simon Amoo, the Regional Senior Manager for the South-West Business District, who presented the items, said the gesture was in recognition of the important role chieftaincy plays in the socio-economic development of communities in the country.
He pledged that MTN would continue to deepen its relationship with all the traditional areas within which it operates and thanked the chiefs and people of Oguaa for their constant support.
Mr Amoo said efforts put into the celebration of the festival would help preserve the cultural heritage and further showcase the historic festival for development and economic empowerment in the Cape Coast Community.
He said MTN has invested more than one million cedis in other community projects in the Central Region and this has impacted on the lives of more than fifty thousand people.
Nana Kodwo Addae II, Chief of Abura and Chairman of the Afahye Planning Committee, who received the items on behalf of the Council, expressed gratitude to the management of MTN for its continued support for the chiefs and people of the Central Region.
Osabarima Kwesi Atta II, the Paramount Chief of the Oguaa Traditional Council, commended MTN for the numerous development projects it was embarking on in various parts of the Region and appealed to them to consider undertaking similar projects in the Cape Coast Metropolis.
He said the only thing that differentiated Ghana and for that matter Africa from the rest of the world was culture, adding that, 'through festivals we will do anything possible to promote the culture.'
Osabarima said the theme for the festival was to enable the youth learn from the elderly so that they could effectively take over from them.
GNA