Fear Grips Britain!!
.....As Jerome Corbyn Rises With Socialism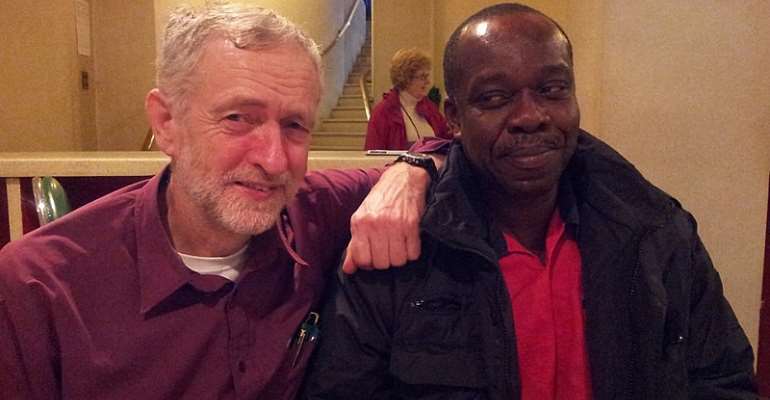 Right wing and conservative forces in the two dominant political parties in Britain have been scared to their bones by the prospects of an openly declared socialist emerging as leader of the Labour Party.
First, they claimed that Jerome Corbyn could not get his name on the ballot and he proved them wrong.
Then they said there was no way such a hard line socialist could become leader of the Labour Party and Jerome is proving them wrong.
All the opinion polls indicate that Jerome Cobyn is far ahead of the two other contestants and may very well be on the way to becoming the Prime Minister of Britain.
Jerome is not new to Ghanaian politics. He is a friend to many Ghanaian left wing activists and was a key participant in the struggle for the restoration of multi-party rule in Ghana.
He joined many other British politicians including the Lord Eric Avebury of the House of Lords in calling for the release of left wing activists detained under Rawlings rule. These activists included Akoto Ampaw, Yao Graham, Kwesi Pratt Jnr and several others.
Jerome is also a member of the Palestine Solidarity Campaign and was active in the campaign for the release of the "Cuban Five" from jails in the United States of America.
Two years ago, he joined several African activists in the Algerian capital, Algiers to demand independence for the Saharawi Arab Democrate Republic.
One of his closet Ghanaian associates is Explo Nani-Kofi, who was exiled from Ghana in the PNDC days for more than 20 years.
Comrade Nani-Kofi says that the strides being made by Jerome in his campaign clearly shows the relevance of socialism even in the colonial metropolis.
Jerome has himself said that his objective is to return the Labour Party to its socialist origins.
It is feared that having worked in the ranks of the "Stop The War Coalition" Jerome would support the referral of Tony Blair and others to the War Crimes Tribunal for their roles in the Iraq war.
For now, British politics is seeing the rebirth of socialist activism on a scale that has shocked it's very foundations.
Indeed both Tony Blair and Gordon Brown ,former Prime Ministers have thrown their full weight against the candidature of Jerome Corbyn.
Jerome is also stridently opposed to the prescriptions of the International Monetary Fund (IMF) and the World Bank (WB) for the economic recovery in the so-called Third World.
There are strong indications that Jerome Corbyn could win the labour leadership election by close to two thirds majority.