Senegal court upholds graft conviction against ex-president Wade's son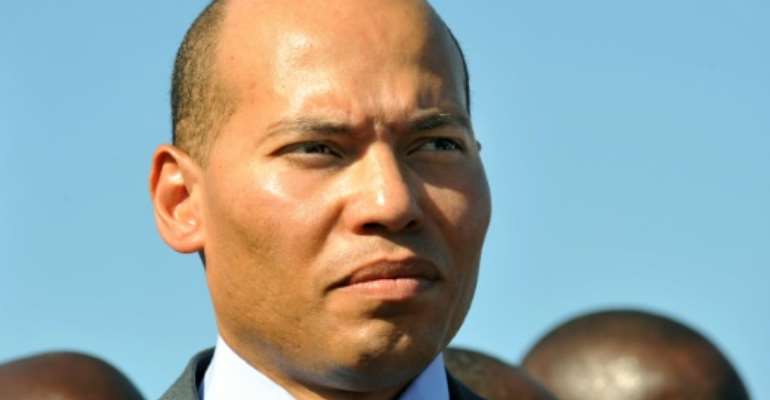 Dakar (AFP) - Senegal's supreme court on Thursday upheld a graft conviction and six-year jail term against Karim Wade, the son of former president Abdoulaye Wade, in a blow to his own presidential ambitions.
A former "super minister" with several portfolios in his father's government, Karim was convicted in March for amassing an ill-gotten fortune in a deeply divisive case that sparked opposition protests in Dakar.
The supreme court rejected an appeal by the younger Wade to overturn the conviction in which he was also fined more than 210 million euros ($230 million).
His assets are also to be confiscated.
His lawyers' arguments that the anti-corruption tribunal that convicted him was biased and their complaints about its composition and jurisdiction over a former minister, were ruled "unfounded" by the court.
Karim and his lawyers were not in court, boycotting the hearing to protest "the violation of their rights".
- 'Scandalous' -
In a statement his lawyers slammed the "serious and scandalous" decision by the supreme court which they said contained more than one hundred irregularities and violations.
Karim was charged in 2013 with corruption after his father's stunning election defeat to Macky Sall the previous year, prompting the former ruling Senegalese Democratic Party (PDS) and his father to accuse the government of conducting a witch hunt.
Several other leaders in the former government, including ministers, have been prosecuted for ill-gotten gains.
Karim was initially accused of amassing about one billion euros but this amount was later whittled down to 178 million euros.
Shortly before his conviction the 47-year-old was chosen by the PDS as its candidate for the country's next presidential election, expected sometime between 2017 and 2019 depending on a pending mandate reform.
In detention since his 2013 arrest, Karim is set to leave jail in 2019, making a successful presidential campaign highly unlikely even though the justice ministry has said he can legally remain a candidate.
- 'A political case' -
"After having exhausted all legal avenues the Senegalese Democratic Party will use political avenues to settle an eminently political case," said party spokesman Babacar Gaye.
"President Macky Sall is using the courts to eliminate a political adversary."
The younger Wade was an extremely divisive figure in Senegalese politics in the run-up to the country's last election when his father's bid to seek a third term sparked deadly riots.
Many believed Abdoulaye Wade, in power from 2000-2012, was trying to line him up for succession.
After a successful career in finance in London, Karim returned to Senegal two years after his father's 2000 presidential victory and was soon tapped for a series of increasingly important public positions.
Those included simultaneous appointments to key ministerial portfolios, earning him the nickname "minister of heaven and Earth".
He was also chosen to head the National Agency for the Organisation of the Islamic Conference (ANOCI), which successfully oversaw the transformation of Dakar in time to host the 11th Islamic Summit of 57 Muslim countries in 2008 -- but was also criticised for a lack of financial transparency.
Backed by his father, Karim was also selected to oversee the construction of a new international airport in Dakar, the restructuring of Senegal's chemical industry and the creation of a special economic zone.
Disparaged for his many years living in Europe, he is seen by many voters as more "toubab" -- the west African word for white Europeans -- than Senegalese.
Voters made their disdain clear in 2009, when Karim campaigned to become the mayor of Dakar -- a bid interpreted as setting the stage for higher national political ambitions, but which resulted in an electoral drubbing.